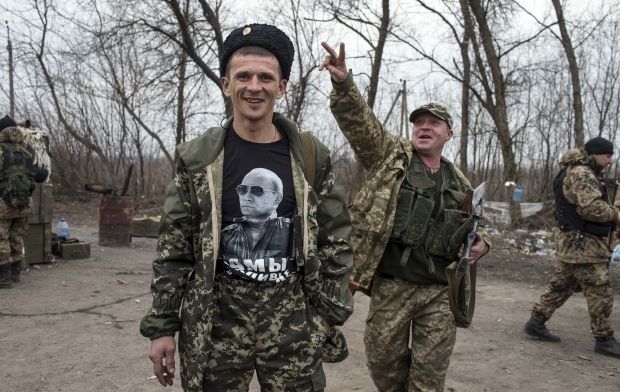 REUTERS
According to the survey, a total of 7% of Russians has friends who went to fight in the Donbas, while 90% of respondents said that there were no such people among their relatives.
A total of 65% of Russians approve of the actions of Russian citizens who joined the militant organizations in the Donbas, while 22% disapprove. A total of 40% do not approve of the work of Russian President Vladimir Putin, including 33% of Moscow and St. Petersburg citizens.
One third of respondents or 33% believe that there are a lot of idealists among those who left Russia to fight as militants in the Donbas, and who believe that they are involved in a "just war."
A quarter of respondents or 28% believes that the "advocates of Russia" went primarily there. According to 16% of respondents, these people are better described as mercenaries. Other people call them adventurers (5% of respondents), bandits (3%), and "restless people" (4%).
A total of 45% of respondents would react positively to a decision by a relative or friend to fight in the Donbas, while another 45% would be negative about it. This news would be most positively taken primarily by men (55%) and Communist Party supporters (53%).
More than half of respondents or 57% respond negatively to the question of whether the Russian authorities should punish those of citizens who fought in the militant organizations in the Donbas. One in four (26%) thought they should be rewarded, while support for this was even higher among the supporters of non-parliamentary parties (35%), the Liberal Democratic Party (33%), rural residents (33%).
Only 5% of respondents consider it appropriate to punish Russian mercenaries.
The poll was conducted on March 7-8, 2015. A total of 1,600 people were questioned in 46 regions of Russia. The poll's margin of error is no more than 3.5%.