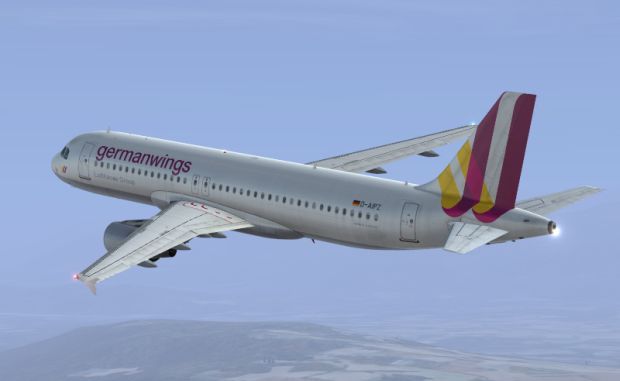 Photo from forum.aerosoft.com
In addition, Valls said that French Interior Minister Bernard Cazeneuve had flown to the crash site, Reuters reports.
An Airbus operated by Lufthansa's Germanwings budget airline crashed into a mountainside in the French Alps on Tuesday, killing all 150 people on board including 16 schoolchildren.
Germanwings confirmed its flight 4U 9525 from Barcelona to Duesseldorf went down with 144 passengers and six crew on board.
One of the plane's black box recorders has been found at the crash site, about 100 km (65 miles) north of the Riviera city of Nice, and will be examined immediately, France's interior minister said.
In Washington, the White House said the crash did not appear to have been caused by a terrorist attack, while Lufthansa said it was working on the assumption that the tragedy had been an accident, adding that any other theory would be speculation.
Aerial photographs showed smoldering wreckage and a piece of the fuselage with six windows strewn across the steep mountainside cut by ravines.
"We saw an aircraft that had literally been ripped apart, the bodies are in a state of destruction, there is not one intact piece of wing or fuselage," Brice Robin, prosecutor for the city of Marseille, told Reuters after flying over the wreckage in a helicopter.
Germanwings believed 67 Germans had been on the flight. Spain's deputy prime minister said 45 passengers had Spanish names. One Belgian was also aboard.
Also among the victims were 16 children and two teachers from the Joseph-Koenig-Gymnasium high school in the town of Haltern am See in northwest Germany, a spokeswoman said.
Barcelona's Liceu opera house said on Twitter that two singers, Kazakhstan-born Oleg Bryjak and German Maria Radner, had died while returning to Duesseldorf after they had performed in Wagner's Siegfried at the theater.
French police at the crash site about 2,000 meters (6,000 feet) above sea level said no one had survived and it would take days to recover the bodies due to difficult terrain, snow and incoming storms.
As UNIAN reported earlier, an airbus A320 of the Germanwings (Lufthansa) airline flying from Dusseldorf to Barcelona crashed in the French Alps on March 24. The plane disappeared from radar at about 1100.
The last accident involving an airbus A320 took place on January 20, 1992 near Mont Sainte-Odile in the region of Bas-Rhin. A total of 87 people died in that crash.
The Airbus A320 family consists of short- to medium-range, narrow-body, commercial passenger twin-engine jet airliners manufactured by European plane maker Airbus.
The first member of the A320 family was launched in March 1984, first flew on February 22, 1987, and was first delivered in March 1988.
The aircraft from of this family are produced in France and Germany, as well as in China since 2011.
The passenger capacity of an airbus A320 ranges from 140 to 180 people depending on the seating arrangement. The maximum flight range is more than 6,000 kilometers.
The Germanwings crashed airplane was a A-320-200 model, characterized by its winglets and increased fuel capacity.