Building explodes in NY, many casualties
12:06, 27 March 2015
World
A thunderous explosion hit a five-storey residential building in Manhattan, New York on Thursday, Ukrainian newspaper Zerkalo Nedeli has reported, with reference to The New York Post.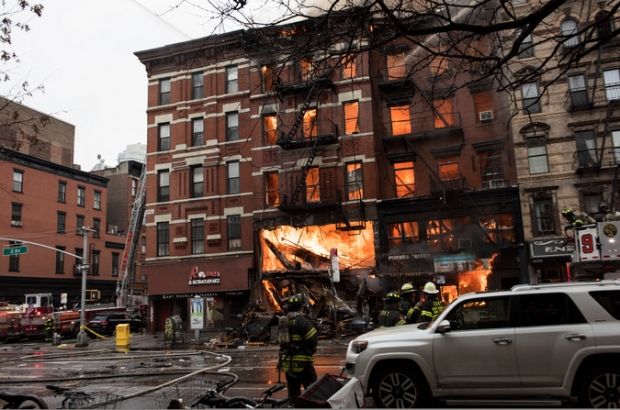 Photo from The New York Times
According to the report, two people died, and at least 30 people were injured as a result of the explosion and rapidly spreading fire that followed it.
The explosion in the East Village caused four buildings to become engulfed in flames, with two collapsing and a third in danger of falling down.
The five-story tenement housed a Sushi Park restaurant on the ground floor. A customer there told police he heard an explosion in the kitchen.
According to the preliminary data, there was a gas explosion followed by a fire in the building, Lenta.ru reported.
According to the New York Daily News, medics assisted eight victims on site, including two firefighters. One person was taken to hospital in critical condition.
A total of 130 firefighters continue working at the site. The rescuers have cordoned off the scene because of fears that the building might collapse.
If you see a spelling error on our site, select it and press Ctrl+Enter