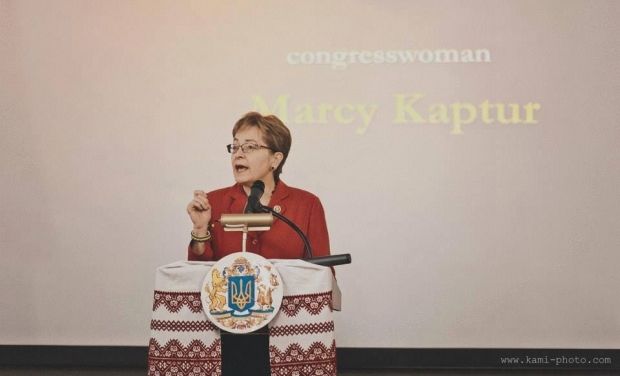 Photo from facebook.com/RepresentativeMarcyKaptur
U.S. President Barack Obama may soon decide on arms supplies to Ukraine.
This was announced by U.S. Congresswoman Marcy Kaptur in an exclusive interview to Ukraine's TSN news channel.
According to her, Obama is deeply concerned about the losses the Ukrainian people have been sustaining, however, he needs more time to decide on the arms supplies.
According to her, it is very important that Ukraine demonstrates its wish to assure the world that its military units don't have anybody who has turned to be there due to the Russian government and that there are no information leaks. "We, as a country, help the Ukrainian army to get trained, therefore the soldiers know how to counteract the enemy even barehanded. And I think that the president wanted to be given more time," she said.
"I think time is going very short. This morning I've signed another letter with all of my colleagues on behalf of the defense cooperation committee to the president, asking him to advance the schedule – whatever the schedule he has in his mind [to authorize immediate defensive weapons supplies to Ukraine]," she said.
On March 23, 2015, Kaptur joined the House in passing a bipartisan resolution, H.Res. 162, calling on President Obama to immediately provide arms and defensive aid to Ukraine.
"As leaders of the free world, the United States holds a solemn obligation to stare down tyranny and to advance liberty," Kaptur said. "In 1993, with assurances from the United Kingdom, the United States and Russia, Ukraine signed the Budapest Memorandum and agreed to give up its nuclear weapons. The signatories pledged aid should Ukraine's security ever be threatened. These promises mean something. International treaties mean something."
"We should make good on our word and provide the people and government of Ukraine with the support they need to defend themselves," she added.
Kaptur earlier told Ukrainian Chicago Magazine that her own familial roots are "deeply entwined in Ukraine's complex history." Her Polish grandparents emigrated from Ukraine in the early 1900s.