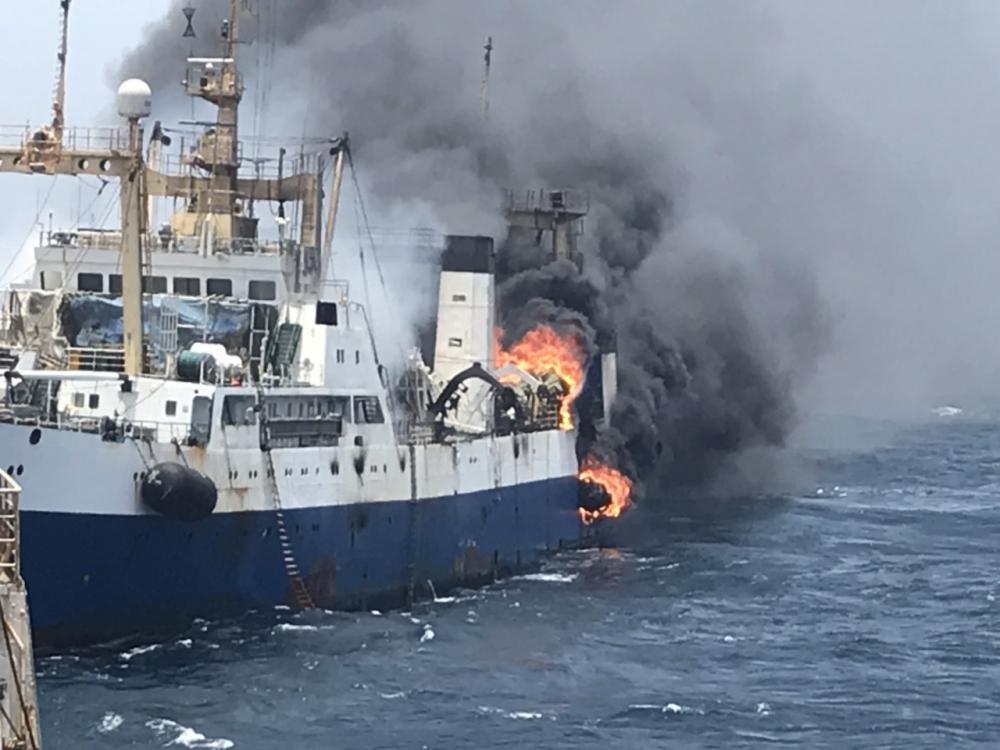 Dumskaya
Two Ukrainian sailors died amid fire on board the Ukrainian trawler Ivan Holubets that lit up off Mauritania coast this weekend, as announced by ex-representative of the president of Ukraine in Crimea, Borys Babin.
According to the updated information, the fishing vessel sank overnight Saturday, July 20, and that the reports came of at least two dead crewmen, Babin wrote on Facebook.
"The ship's captain, a Crimean resident Serhiy Timchenko, had Ukrainian ID on him. Also on board were at least three cadets from the unrecognized fake educational institution controlled by Crimea invaders – Kerch State Maritime Technical University," wrote Babin.
Read alsoMassive batch of cocaine washes ashore in Romania
He notes that the vessel's "incomprehensible maneuvers" before a disaster, the lack of identification marks (including the IMO number), the automatic information system turned off, and the team's "strange actions" during attempts to save the vessel suggest that there was something else in the holds except fish.
"Something that's better not to show anyone," suggested Babin.
He recalled that "Ivan Holubets" was owned by a Ukrainian state company and operated by a Latvian businessman of Ukrainian origin.
Babin assumes that the vessel could be operated by Ukrainian officials "in cooperation" with a Russian-controlled educational institution and the Russian Maritime Register.
Read alsoNorway, UK should be on alert over accident with Russian submersible – media
"And for the second day, there has been almost complete informational silence in Ukraine, apart from regional and specialized publications. In other civilized countries, the situation would have already resulted in a series of high-profile resignations, arrests, and searches at various agencies," the ex-envoy of the president in Crimea said.
As UNIAN reported earlier, on July 20, the Ukrainian ocean trawler Ivan Holubets caught fire off Mauritania coast. At the time of the incident, 90 persons were on board – citizens of Ukraine and Russia.
The fire started in the engine room and quickly spread to the deck. Due to heavy smoke, the captain ordered that everyone flee the vessel. People were evacuated by another trawler, Marshal Krylov. It was reported that one crewman died and several were injured.