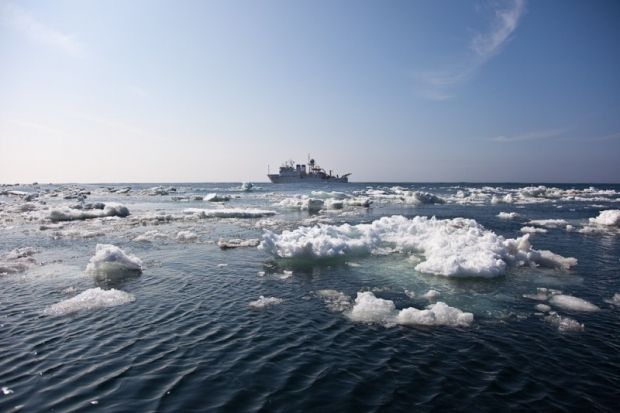 Photo from fish.gov.ru
There were 132 people on board the Dalniy Vostok trawler, 63 of whom have been rescued from freezing waters.
A total of 26 ships of various types have been engaged in search operations.
The ship was carrying 78 Russian nationals, as well as 54 people from Myanmar, Ukraine, Lithuania and Vanuatu, the news agency said.
The freezer trawler Dalniy Vostok went down in the Sea of Okhotsk, 330 km west of Krutogorovsky settlement in Russia's Kamchatka region and 250 km south of the city of Magadan.
The home port of the trawler, which was owned by Magellan LLC, was Nevelsk in Russia's Sakhalin region.
"The ship did not send any SOS distress call. The presumed cause of the accident is believed to be a collision with drifting ice, which caused a hull breach" the agency was told.
Those most severely affected in the shipwreck are being sent to hospitals in Magadan.
A criminal case has been opened to investigate the cause of the loss of the trawler, according to Russia's Far Eastern transport prosecutor's office.
The office will also check that the vessel was in compliance with the maritime safety laws.