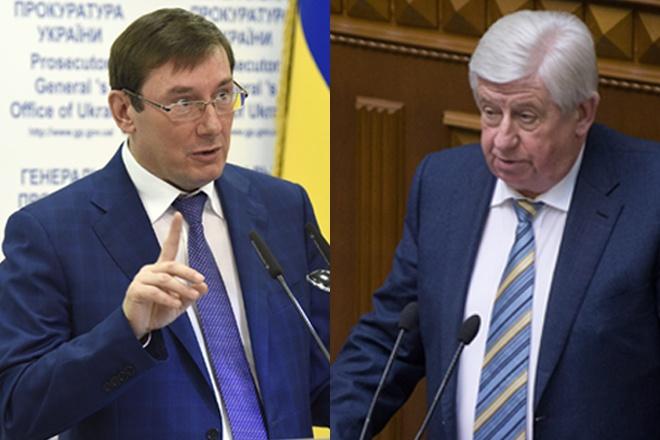 kp.ua
Former prosecutor general Viktor Shokin, as well as the incumbent one, Yuriy Lutenko, leaked to Donald Trump's people the so-called "kompromat" on Joe Biden.
As their source of information, journalists used testimonies by intermediaries in Giuliani's communications with Ukrainian prosecutors, Hromadske reported citing BuzzFeed. 
These two unofficial envoys were Lev Parnas, who had emigrated to the U.S. from the Soviet Union, and his friend Igor Furman. The pair "pumped hundreds of thousands of dollars into Republican campaigns and dined with the president — gathered repeatedly with top officials in Ukraine and set up meetings for Trump's attorney Rudy Giuliani as they turned up information that could be weaponized in the 2020 presidential race."
They set up an online call for Giuliani and Shokin, who allegedly had dirt on Biden
Read alsoZelensky being pulled into domestic political conflict in U.S. – media
Shokin was aware that Biden's son was at the time working with Burisma, a company of ex-ecology minister Mykola Zlochevsky, where he made $3 million. The Prosecutor General's Office, then headed by Shokin, had been probing into the company's activities, while Biden allegedly asked the then-president Petro Poroshenko to sack Shokin so that the top prosecutor could not tar Biden's reputation.
In 2019, the said intermediaries helped Giuliani get in touch with the incumbent prosecutor general, Yuriy Lutsenko.
At a New York meeting, Lutsenko handed over to Trump's lawyer documents allegedly proving that the U.S. Embassy in Ukraine back in 2016 was interested in Hillary Clinton winning the U.S. election.
Read alsoGiuliani cancels Ukraine trip, says he'd be 'walking into group of people that are enemies of U.S.' – NYT
Besides, Lutsenko told Giuliani that in 2016, the U.S. demanded that the National Anti-corruption Bureau of Ukraine to give them the "black ledgers" of Viktor Yanukovych's Party of Regions, which included the evidence that the party channeled millions of dollars to Paul Manafort, who in 2016 headed Trump Campaign. Manafort was fired precisely after the "black ledgers" were made public. He was later sentenced to 7.5 years in prison for conspiracy against the U.S., tax evasion, and money laundering, the publication notes.
Lutsenko also met Giuliani in Warsaw, Poland, after which the prosecutor general said he had provided the U.S. with the information to contribute to the official investigation.