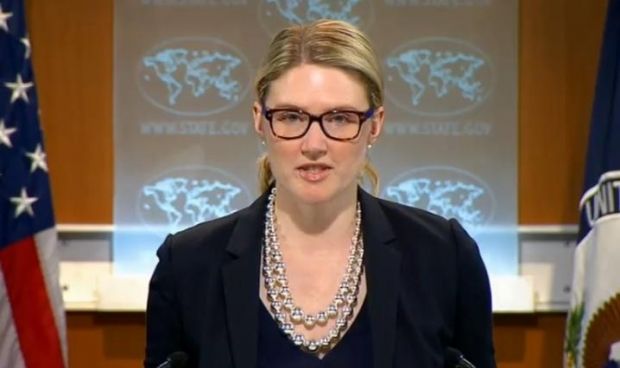 Marie Harf / Screenshot from broadcast by U.S. State Department
"We strongly condemn the closure of many large Crimean Tatar media by the Russian authorities, including ATR, which was the last independent television station serving the Crimean Tatar population of Crimea, as well as the QHA news agency, Avdet newspaper, the Meydan-FM radio station, and some others," Harf said.
According to the State Department, these measures are the latest in a series of actions that undermine the freedom of speech in the Crimea. They followed a one year campaign that was aimed to force the Crimean Tatar people and others who oppose the Russian occupation to keep silent, Harf said.
"The Tatars were subjected to discrimination, intimidation and harassment, including through the implementation of raids on homes, political organizations and places of worship," she said.
"Those who live in the Crimea deserve better. The United States condemns Russia's inability to respect the rights of those who remain in Crimea, and its disregard for the freedom of the media.
"We call on for an immediate resumption of work of all media that have been closed.
"Crimea is part of Ukraine, and the United States continues to support the sovereignty and territorial integrity of Ukraine."
As reported earlier, the European Union condemned the closure by Russia of the Crimean Tatar media.