Pilots of Kaczynski's plane forced to land in Smolensk, constantly distracted
13:25, 07 April 2015
World
The pilots of the Polish government Tu-154 plane that crashed on April 10, 2010 near Smolensk were forced to land and were constantly distracted from their work, the Polish radio station RMF FM reported on Tuesday, with reference to the new decrypted record conversations of the pilots from one of the black boxes of the government Tu-154 plane, according to an UNIAN correspondent in Poland.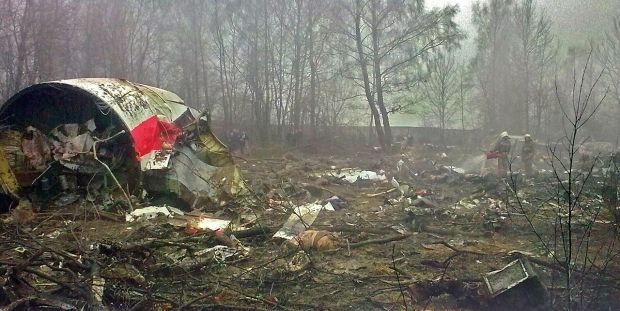 Photo from wikipedia.org
"There were constant reassurances from unauthorized persons, who prevented the pilots from landing the plane, the presence of the head of the Air Force in the cockpit, and even someone drinking beer in the cockpit half an hour before the accident," the radio station said.
According to the report, the experts have managed to decipher 30% more words than in previous examinations.
RMF FM reports that head of the Polish Air Force Andrzej Błasik, who was in the cockpit, gave the pilots instructions, and said that they had to land the plane.
"We must do it, until we achieve a result," Błasik said, according to radio station.
The director of the protocol service of the Polish Foreign Ministry Mariusz Kazana is also heard calling for the pilots to land the plane.
"Within 20 minutes before the crash the black box registered seven attempts to calm down the situation," the report says.
According to the records, about half an hour before the accident a flight attendant suggested an unknown person in the cockpit drink a beer, and the person did so.
As reported earlier, the plane of the Polish president, which was carrying 96 people, including President Lech Kaczynski, crashed while landing at Severniy airfield in Smolensk due to heavy fog and low visibility. All 88 passengers and eight crew members were killed.
Polish and Russian aviation experts committee said that the main reason of the accident was a pilot error.
Supporters of the largest Polish opposition party "Law and Justice" (PiS), the co-founder of which was Lech Kaczynski, said that the crash was the result of a deliberately organized attempt on the life of the Polish president, and declared that the Polish and Russian authorities had tried to conceal this in every way.
If you see a spelling error on our site, select it and press Ctrl+Enter