German foreign minister opposes inviting Putin to G7 summit in Germany in June
19:57, 12 April 2015
World
Minister Steinmeier says that it's not in Germany's interests to "isolate Russia in the long term," but one cannot carry on 'business as usual' after the illegal annexation of Ukraine's Crimea.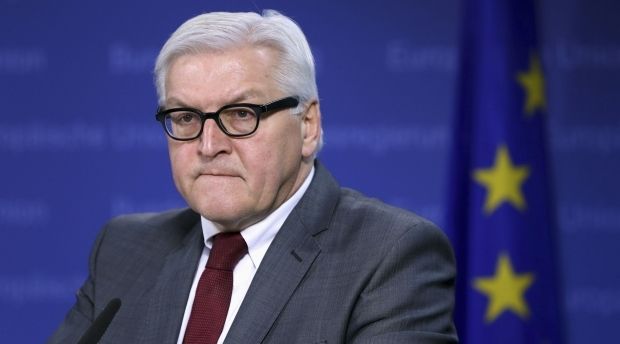 REUTERS
German Foreign Minister Frank-Walter Steinmeier has dismissed calls to invite Russian President Vladimir Putin to the summit of the Group of Seven (G7) industrial powers, scheduled for June 2015 in Germany.
He announced this in an interview with Germany's Die Welt on April 12, according to DW.de.
This was Steinmeier's reaction to calls from Gregor Gysi, the parliamentary leader of the Left party that includes some former East German communists, who asked German Chancellor Angela Merkel to invite Putin to the summit. Gysi claims that the "isolation of Russia brings nothing but harm."
Steinmeier in turn said: "It is not in our interests to isolate Russia in the long term. But after the illegal annexation of Crimea, we cannot just act as if nothing has happened and carry on 'business as usual'."
"The way back to the Group of Eight will come through respecting the unity of Ukraine and implementing Russian obligations in the Minsk [ceasefire] agreement," he added.
Steinmeier also said that the future of Western sanctions imposed against Russia over Ukraine would depend on the implementation of the Minsk accords. The current truce remains "fragile," however, the sides should continue work to implement the peace agreements. This needs, according to him, the readiness of Kyiv and, most of all, Moscow. The point at issue are the launch of a "political process," preparations for local elections in territory occupied by separatists, and measures to ensure access to humanitarian assistance and "rebuild eastern Ukraine."
According to Steinmeier, the Donbas conflict hasn't had "a military solution, especially in favor of Ukraine." Though, he said, there are occasional violations of the ceasefire, for instance, near the Donetsk airport and the village of Shyrokyne. At the same time, the degree of violence after the Minsk accords in February 2015 has "considerably been reduced."
Further steps to implement the Minsk agreements will be discussed by 'Normandy Four' foreign ministers in Berlin on April 13, Steinmeier said.
If you see a spelling error on our site, select it and press Ctrl+Enter