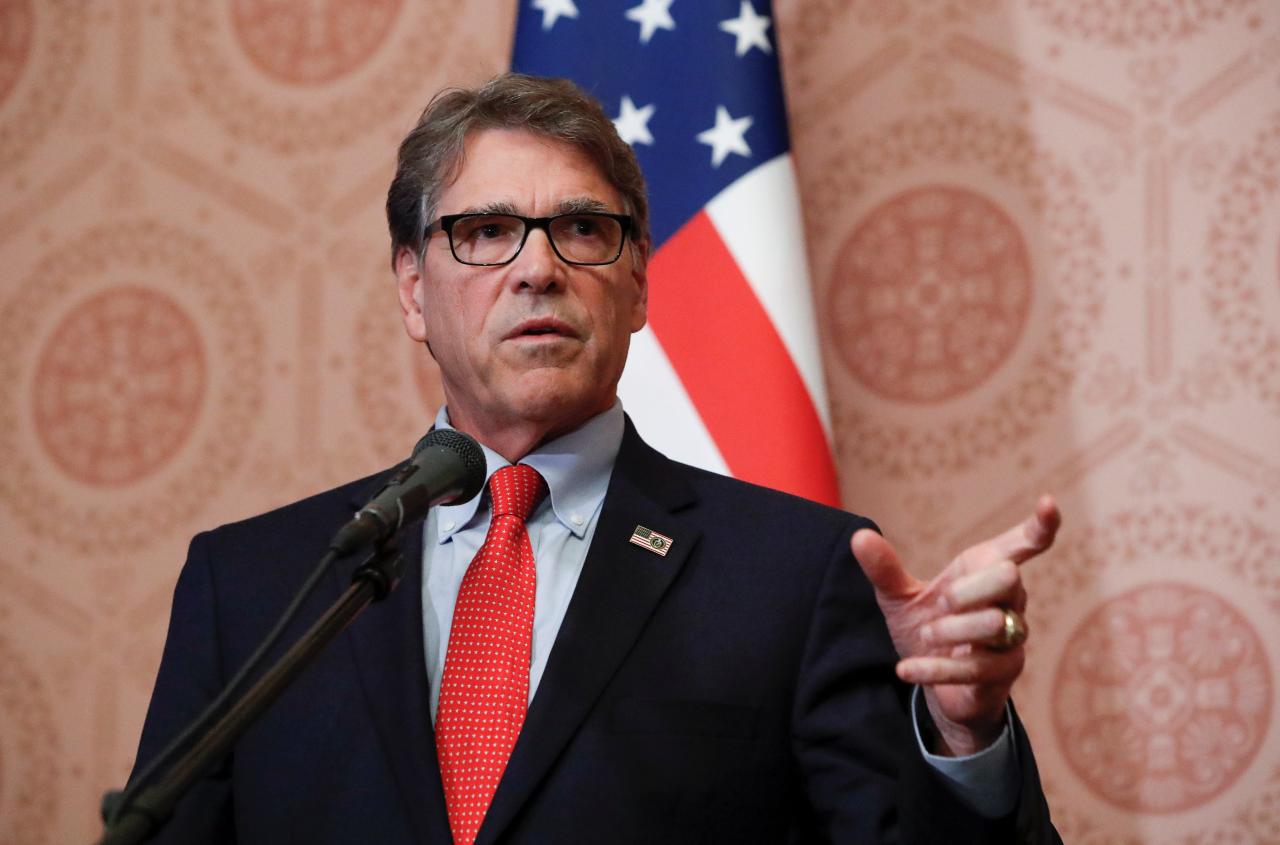 Rick Perry / REUTERS
U.S. Energy Secretary Rick Perry, who has met on at least three occasions with Ukrainian President Volodymyr Zelensky, on Wednesday pledged to work with lawmakers looking into a whistleblower's allegations about President Donald Trump's communications with Zelensky.
"I'll just briefly say we're going to work with Congress and answer all their questions," Perry said at a department event on artificial intelligence and energy, CNN reported.
Read alsoU.S. secretary Perry says international loan an option for Ukraine's winter fuel needs – media
Perry has met with Zelensky at least three times while in office, including when replaced Vice President Mike Pence in leading a U.S. delegation to Zelensky's inauguration last spring.
On Tuesday, Sen. Bob Menendez of New Jersey, the top Democrat on the Foreign Relations committee, sent a letter questioning Perry about that trip as well as his second meeting with Zelensky, a June 2019 dinner.
Energy Department spokeswoman Shaylyn Hynes told CNN, "Regardless of subject, the Department is always willing to work with Congress in response to requests that follow proper procedures."
A summary of Perry's meeting with Zelensky on that trip describes their conversations about energy pipelines and says Perry promised – "on behalf of President Trump and his Administration" – to "continue to support our friend and ally, Ukraine, against Russia's aggression."
The first two meetings between Perry and Zelensky took place prior to the Trump phone call, according to the Menendez letter and readouts from the Energy Department.
The third meeting between Perry and Zelensky occurred in late August, according to an Energy Department statement at the time. It said the two men, were joined by Pence and John Bolton, who was later ousted as national security adviser.
"President Zelensky articulated his administration's commitment to defeating corruption and pledged to launch much anticipated reforms," the Energy Department's statement said.
Perry also met in Ukraine with Zelensky's predecessor in August 2017 and visited the country on a Baltic region tour in November 2018.