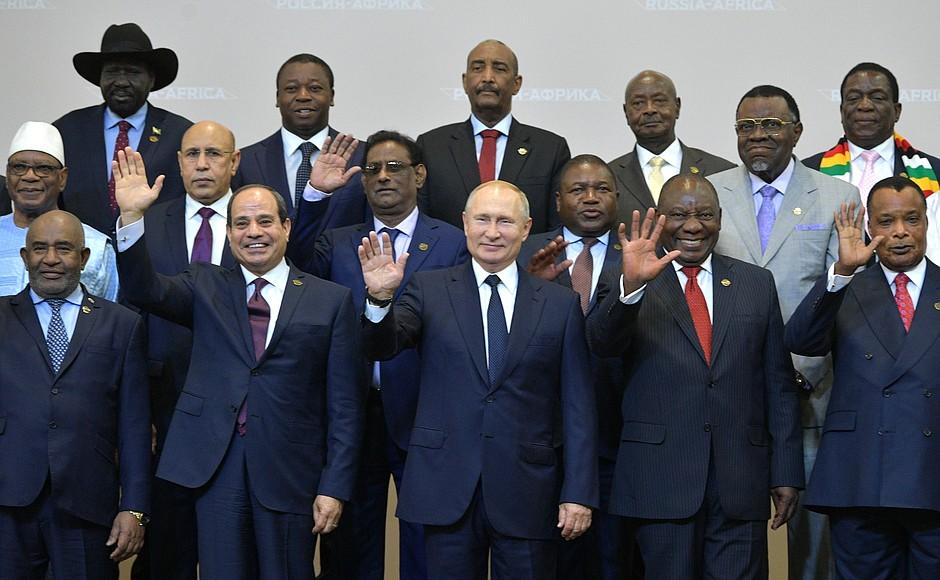 Kremlin.ru
A desert-themed armored car, camouflage-colored attack helicopter, and sky-blue fighter jet lined the entrance to the arena. Guns and grenade launchers greeted guests inside. It was the first-ever Russia-Africa Summit, held in Sochi, Russia, last week, and the host, Russian President Vladimir Putin, was determined to display all his country has to offer. "They're good," one South African said, toying with the new line of Kalashnikovs. "I like them."
As Putin tries to court Africa's leaders and stage a grand return to the continent, fears have been raised of a new scramble for Africa. It is a framing that seems to have stuck in Moscow, Beijing, and Washington, where officials have made clear to varying degrees that their engagement with the continent is part of a broader geopolitical struggle between each other, Foreign Policy reported.
Read alsoRussian propaganda targets CNN reporter following exclusive reporting on country's secret army in Africa – media
There are plenty of problems with this framing, not least the way it portrays Africans as passive political objects, rather than actors in their own right. But the first factual shortcoming is the inclusion of Russia in any discussion of the world's great powers. The sense that it belongs among these powers, which has been parroted by officials and outlets from around the world, would appear to be little more than Putin's spin.
"Russia is trying to fuel the perception that it's a major player," Grant Harris, who served as former U.S. President Barack Obama's senior advisor for African affairs, told Foreign Policy. In Sochi, Putin was undoubtedly able to do so, but the data tells a different story.
Since 2014, when sanctions following the annexation of Crimea forced Putin to find new markets and partners beyond the West's regulatory reach, Russia has made a concerted effort to expand into Africa. It hasn't had much effect. Today, only 3.7 percent of Russian goods end up in Africa. With more than 2.7 percent getting gobbled up by North Africa, a paltry fraction is destined for the bulk of the continent. It's even worse in reverse, as African goods account for just 1.1 percent of Russian imports. The Sochi summit was supposed to change all this. However, there's not much to suggest that it will. Of the $12.5 billion in deals that were allegedly signed, most were only memorandums of understanding that may never get off the ground.
The problem is simple and seemingly unavoidable: Other than arms, of which Russia continues to be the continent's key supplier, there is little it has to offer and less that Africa will take. For now, it's hard to see how Putin's plan to find new partners, make more money, and restart the Russian economy will succeed. "When the forum is finished, everything will be the same," one Sochi native despaired.
Read alsoRussia to deploy military specialists to Republic of Congo as Moscow expands global reach – media
Nevertheless, Putin has fallen for his own great-power paradigm. "For many years Putin has aspired to play a much bigger role in the international system," Michael McFaul, a former U.S. ambassador to Russia, told Foreign Policy. In Sochi, the Russian leader and his associates were not shy about this, and they voluntarily expressed that the return to Africa was a hopeful step in their return to great-power status. "The superpowers that are competing on this continent will determine the future of the world's agenda," Russian State Duma Deputy Anton Morozov awkwardly announced to a room full of African officials on the second day of the summit.
But as Russia returns, its blunders abound. As it turns out, treating African states as easy-to-manipulate pawns is not only ethically and intellectually questionable – it's also strategically silly. When Russia engages, it often discounts domestic African politics and overlooks political preferences, refusing to develop meaningful ties with civil society and across the political spectrum. Instead, Judd Devermont of the Center for Strategic and International Studies explained, "The Russians go all in on the incumbent."
In South Africa, this mistake was on full display in Russia's opaque and potentially corrupt courtship of then-President Jacob Zuma for a contract to build a nuclear facility. It did not take long for Zuma's government to fall in a broader corruption scandal, which in turn led his successor, Cyril Ramaphosa, to cancel Russia's prized agreement.
In Sudan, Russia made similar and shadier errors. As Omar al-Bashir was fighting to hold on to his blood-soaked dictatorship in the recent revolution, Russian actors swooped in with a misinformation plan to save him. They didn't, and today Bashir is behind bars. Although the Russian-Sudanese relationship has resumed, it was a costly error in a country that can offer not only gold and oil, but also the Red Sea naval base that is one of Putin's top priorities.
Other blunders have been more embarrassing. In 2018, associates of Yevgeny Prigozhin, the man who is believed to have masterminded Russian interference in the 2016 U.S. presidential election, trotted out similar tactics to disrupt a race in Madagascar. The idea was to use a troll farm to influence voter opinion by manipulating online media. However, in a nation where internet penetration is just 9.8 percent, about a quarter of what it is on average across the continent, the troll farm did not make a dent. The Kremlin's candidates went on to lose, and subsequent allegations of bribes to Malagasy officials further sullied the Russian image.