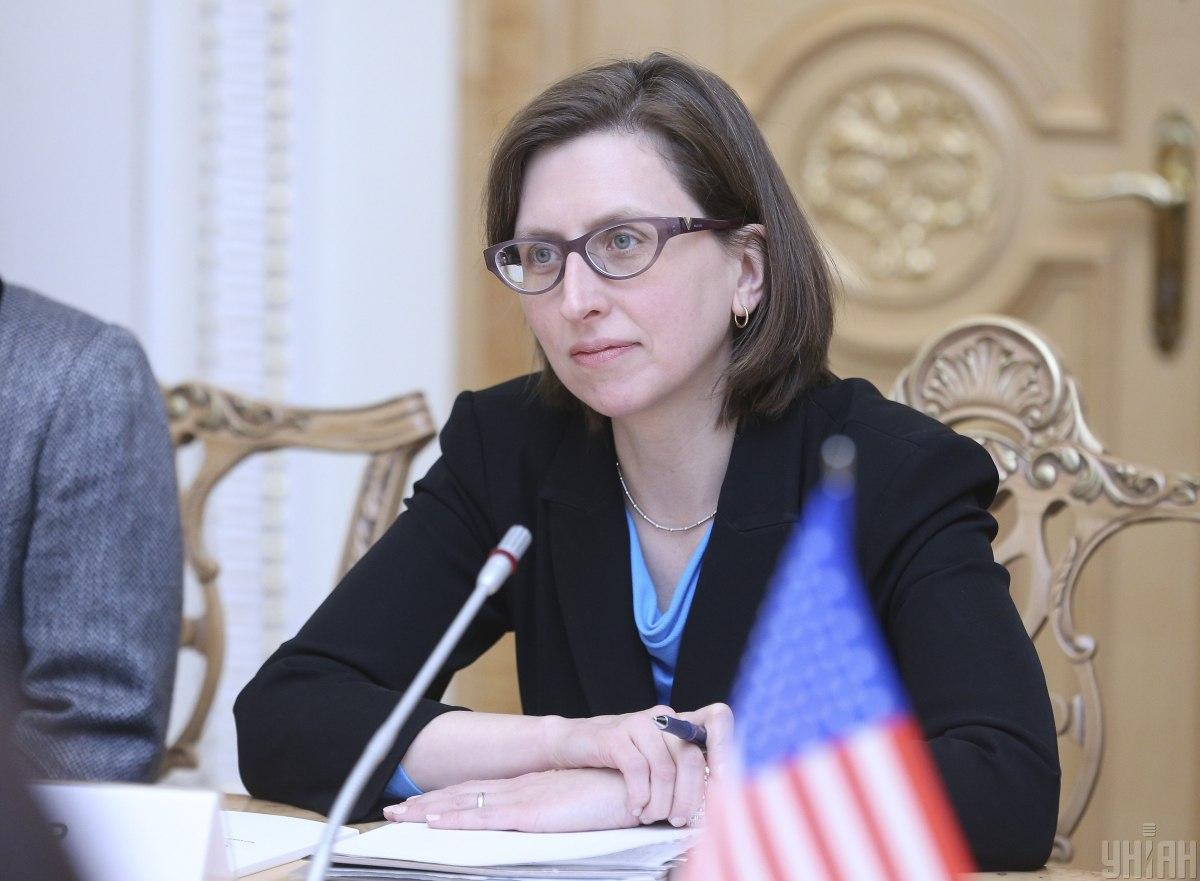 Photo from UNIAN
Laura Cooper, the top Pentagon official overseeing U.S. policy regarding Ukraine, told House impeachment investigators last month that President Donald Trump directed the relevant agencies to freeze aid to Ukraine over the summer, according to a transcript of her testimony released Monday.
Cooper, during October 23 testimony before the three House committees leading the impeachment inquiry into Trump's Ukraine dealings, testified that she and other Pentagon officials had answered questions about the Ukraine assistance in the middle of June — so she was surprised when one of her subordinates told her that a hold had been placed on the funds after an interagency meeting in July, NBC News reported.
According to the transcript of her testimony, Cooper described the hold as "unusual."
Asked if the president was authorized to order that type of hold, Cooper said there were concerns that he wasn't.
She said "there were two legally available mechanisms should the President want to stop assistance" — a presidential rescission notice to Congress or for the Defense Department to do "a reprogramming action."
"But I mentioned that either way, there would need to be a notification to Congress," she said, according to the transcript.
Asked if that happened, Cooper said, "That did not occur."
Read alsoBolton's lawyer says he has information on Ukraine that hasn't been disclosed – CNN
Investigators have zeroed in on the testimony of several key figures in the Ukraine affair — including Bill Taylor, the top U.S. diplomat in Ukraine, and George Kent, a deputy assistant secretary of state who worked on Ukraine and five other countries — to support the allegation that the Trump administration froze aid intended for Ukraine as part of an attempt to pressure the country to open probes that would benefit Trump politically.
The freeze on military aid to Ukraine — which Cooper's testimony corroborates — is a crucial part of the narrative that Democrats have woven together in attempting to prove that the president sought a quid pro quo with Ukraine.
Top Republicans, including Trump himself, have said there couldn't have been a quid pro quo because, they claim, the Ukrainians were not aware that military aid was being withheld in the first place.
However, CNN reports that Laura Cooper in her testimony said that former U.S. special envoy to Ukraine Kurt Volker told her Ukrainian officials were alarmed in August that the security aid was being held up — an indication Kyiv was aware of the delay earlier than it was reported publicly.
She described Volker seeking a statement from the Ukrainians about opening investigations into election interference that would trigger a release in the aid.
Read alsoReuters: Republicans want Hunter Biden, whistleblower to testify in open hearings
"I knew from my Kurt Volker conversation and also from sort of the alarm bells that were coming from Ambassador (Bill) Taylor and his team that there were Ukrainians who knew about this," Cooper said, describing the Ukrainians as aware of the freeze on aid in August 2019. "The context for the discussion that I had with Ambassador Volker related specifically to the path that he was pursuing to lift the hold would be to get them to make this statement, but the only reason they would do that is because there was, you know, something valuable."