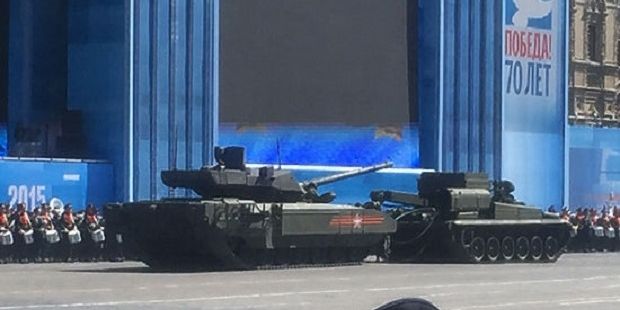 Photo from mk.ru, Yelena Yegorova
But parade organizers told watching crowds after the incident that it was actually a planned rehearsal of the evacuation of broken-down military equipment.
"We will show how the evacuation of military equipment will be carried out. The stoppage of the tank was planned," it was announced over the public address system.
The tank, which had been part of a column, had rumbled to a halt and appeared to be in difficulties. The tank's engine remained running, but it seemed unable to move, according to a correspondent from Russian newspaper Moskovskiy Komsomolets.
A group of Russian army officers then came up to the tank and appeared to discuss the situation with the tank's crew, the Associated Press said in a report.
Next, a military towing vehicle approached the tank, but according to the AP report, the attempt to tow the vehicle failed.
After about 15 minutes, after the rehearsal of the parade had ended, the tank was able to move off under its own power and join the rest of the tank column, the AP wrote.