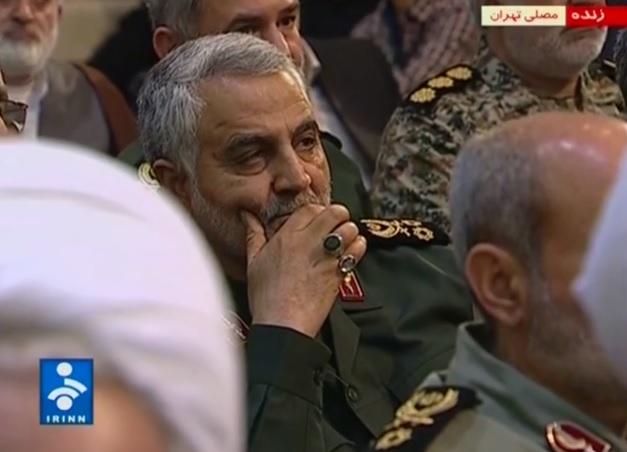 Screenshot
Iran's top security and intelligence commander was killed early Friday in a drone strike at Baghdad International Airport that was authorized by President Trump, American officials said.
The commander, Maj. Gen. Qassim Suleimani, who led the powerful Quds Force of the Islamic Revolutionary Guards Corps, was killed along with several officials from Iraqi militias backed by Tehran when an American MQ-9 Reaper drone fired missiles into a convoy that was leaving the airport, according to The New York Times.
General Suleimani was the architect of nearly every significant operation by Iranian intelligence and military forces over the past two decades, and his death was a staggering blow for Iran at a time of sweeping geopolitical conflict.
Read alsoRussia, China, Iran will try to meddle in 2020 U.S. elections, security officials say
United States officials were braced for potential Iranian retaliatory attacks, possibly including cyberattacks and terrorism, on American interests and allies.
Israel, too, was preparing for Iranian strikes. Some of the country's most popular tourist sites, including the ski resort at Hermon, were closed, and the armed forces went on alert, officials said.
"In killing General Suleimani, Mr. Trump took an action that Presidents George W. Bush and Barack Obama had rejected, fearing it would lead to war between the United States and Iran," the publication says.
While many Republicans said that the president had been justified in the attack, Mr. Trump's most significant use of military force to date, critics of his Iran policy called the strike a reckless unilateral escalation that could have drastic and unforeseen consequences that could ripple violently throughout the Middle East.
"Soleimani was an enemy of the United States. That's not a question," Senator Christopher S. Murphy, Democrat of Connecticut, wrote on Twitter, using an alternate spelling of the Iranian's name. "The question is this – as reports suggest, did America just assassinate, without any congressional authorization, the second most powerful person in Iran, knowingly setting off a potential massive regional war?"
Iran's foreign minister, Javad Zarif, called the killing of General Suleimani an act of "international terrorism" and warned it was "extremely dangerous & a foolish escalation."
"The U.S. bears responsibility for all consequences of its rogue adventurism," Mr. Zarif tweeted.
Read alsoReuters: Oil prices jump $1 after U.S air strike kills Iran, Iraq military personnel
Hawkish Iran experts said the strike would be deeply painful for Iran's leadership. "This is devastating for the Iranian Revolutionary Guards Corps, the regime and Khamenei's regional ambitions," said Mark Dubowitz, the chief executive of the Foundation for Defense of Democracies, referring to Ayatollah Khamenei.
"For 23 years, he has been the equivalent of the J.S.O.C. commander, the C.I.A. director and Iran's real foreign minister," Mr. Dubowitz said, using an acronym for the United States' Joint Special Operations Command. "He is irreplaceable and indispensable" to Iran's military establishment.
For those same reasons, other regional analysts warned, Iran is likely to respond with an intensity of dangerous proportions.
"From Iran's perspective, it is hard to imagine a more deliberately provocative act," said Robert Malley, the president and chief executive of the International Crisis Group. "And it is hard to imagine that Iran will not retaliate in a highly aggressive manner."
"Whether President Trump intended it or not, it is, for all practical purposes, a declaration of war," added Mr. Malley, who served as White House coordinator for the Middle East, North Africa and the gulf region in the Obama administration.
Some United States officials and Trump administration advisers offered a less dire scenario, arguing that the show of force might convince Iran that its acts of aggression against American interests and allies have grown too dangerous, and that a president the Iranians may have come to see as risk-averse is in fact willing to escalate.