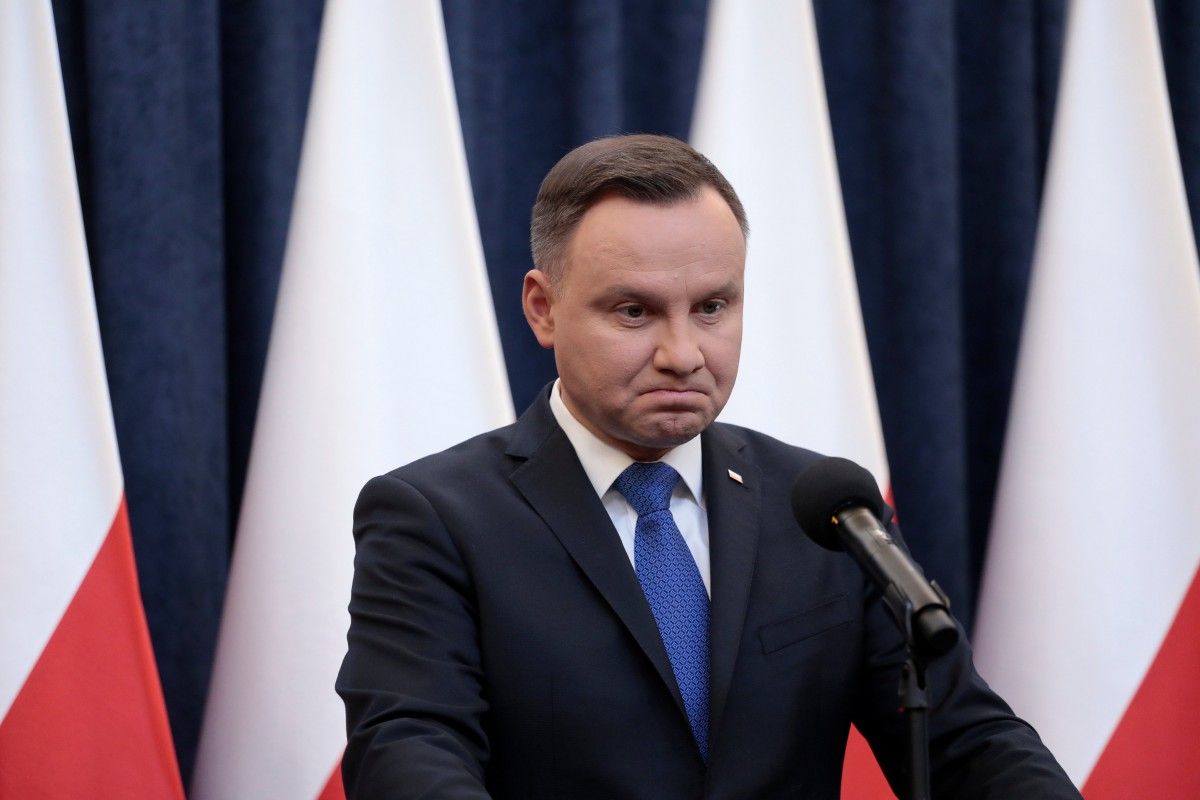 REUTERS
Polish President Andrzej Duda decided not to attend the World Holocaust Forum at Yad Vashem on January 23 because he will not be able to give a speech, he said on Tuesday.
"As the [Polish] president, I will not take part in the event," he said in a press conference, adding that he takes umbrage with the leaders of Russia, France, Britain, Germany and the U.S. speaking while Poland's will not, JPost reported.
Poland and Russia have been embroiled in a dispute in recent months over how World War II started.
Earlier Tuesday, Polish Ambassador to Israel Marek Magierowski tweeted: "In order to dispel any doubts: Yad Vashem and the Israeli authorities have been aware of President Andrzej Duda's request to speak... for at least four months."
Forty-two leaders from around the world are expected to attend the Fifth Holocaust Forum, which will be held in Jerusalem on January 23.
Read alsoPolish leaders urge Holocaust forum to condemn Putin over collaboration claim
Responding to Duda's argument that he can speak for those who suffered in the Holocaust, the memorial pointed that "It is important to note, that out of 1.1 million victims of the Auschwitz-Birkenau death camp, some 1 million were Jews who were murdered simply because they were Jewish, unrelated to their countries of origin. Hence, the nationalities of the victims of Auschwitz-Birkenau have no bearing on the identity of leaders who will address the Fifth World Holocaust Forum."
In addition, Yad Vashem said "it is especially appropriate that the leaders addressing this event represent the four main powers of the Allied forces, which liberated Europe and the world from the murderous tyranny of Nazi Germany."
Duda's decision came as Warsaw and Moscow have been engaged in a continuing dispute over which one of the countries collaborated with the Nazis.
The spat began with a recent European Parliament resolution blaming the August 23, 1939, Molotov-Ribbentrop Non-Aggression Pact for the outbreak of World War II, which occurred eight days later. Nazi leader Adolf Hitler and Soviet dictator Joseph Stalin had secretly agreed to divide Poland and the Baltic states between Germany and the Soviet Union.
Putin argued Western appeasement of Hitler brought about the war, calling the European Parliament resolution "sheer nonsense," and that the Soviet Union was forced into the non-aggression agreement to stave off a German attack because Britain allowed Hitler to annex Czechoslovakia.
The Russian president also said that Józef Lipski, the Polish ambassador to Berlin at the time, "expressed full solidarity with Hitler in his antisemitic views."
In 2017, Poland enacted a law making it illegal to accuse Poland or the Polish people of being responsible for World War II or the Holocaust. The legislation originally carried a jail sentence, which was then canceled. Many Israeli officials condemned the law, including President Reuven Rivlin, who said that Poland and the Poles "had a hand in the extermination" of the Jews in the Holocaust.