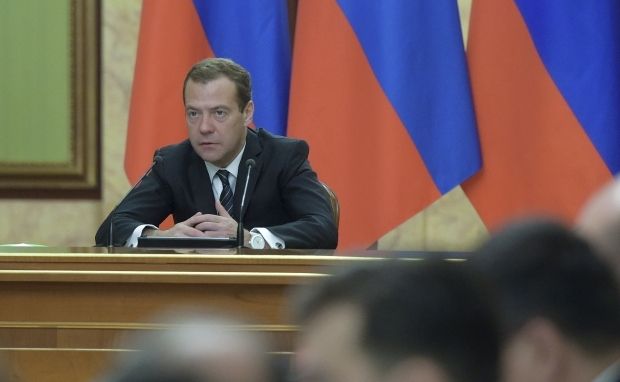 REUTERS
Russian Prime Minister Dmitry Medvedev on Wednesday, January 15, told Russian President Vladimir Putin that the entire government is resigning, according to an UNIAN correspondent in Russia.
Medvedev made the move after Putin delivered his address to the Federal Assembly with a proposal to amend the Russian Constitution.
"Dear Vladimir Vladimirovich [Putin], dear colleagues, you all witnessed the address of the President of the Russian Federation. Vladimir Vladimirovich as president outlined not only the priorities of work in our country for the coming year, but also a number of fundamental changes to the Constitution of the Russian Federation. These changes, once adopted, which in all likelihood, will be done following discussion, as was said, will bring significant changes not only to a number of articles of the Constitution, but also to the balance of power as a whole - executive, legislative, and judicial. In this context, it is obvious that we, as the government of the Russian Federation, must provide president of our country with the opportunity to take all the necessary decisions. And in these conditions, I believe that it would be right for the Russian government to resign in accordance with Article 117 of the Constitution of the Russian Federation," Medvedev said.
In turn, Putin proposed introducing a new post of deputy secretary of the Russian Security Council and appointing Medvedev to take it up.
In 2024 Putin's presidential powers expire. According to the Constitution of the Russian Federation, he can no longer run for the post of head of the Russian state. At the same time, Putin offered to consolidate in the Constitution the powers and role of the newly-created State Council. If the new body receives wide powers, Putin could prolong his actual rule by becoming its head.
Crazy day in Moscow politics. Basically, Putin has removed Medvedev as PM & will take all the decisions DM wld normally have taken; he's asked ministers to stay in place until there's a new cabinet.

Medvedev will be deputy of the Security Council - out of the way?

But why?

— Sarah Rainsford (@sarahrainsford) January 15, 2020
The outgoing government will remain in situ until the new one is appointed, according to BBC.
Correspondents say possible candidates to succeed Mr Medvedev as prime minister include Economy Minister Maxim Oreshkin, Mayor of Moscow Sergei Sobyanin and Energy Minister Alexander Novak.