Russia sees two military aircraft accidents in one day
18:55, 04 June 2015
World
Two accidents involving military aircraft, the Su-34 and the MiG-29, happened in Russia on Thursday, according to the Russian Defense Ministry.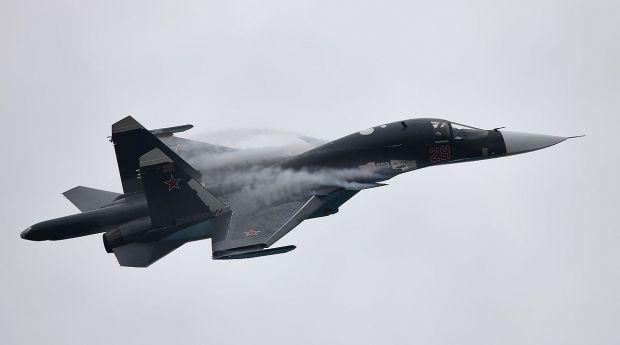 An illustrative image of Su-34 / Photo from Vitaly V. Kuzmin / vitalykuzmin.net
A Sukhoi Su-34, a Russian twin-engine, twin-seat strike fighter, skipped off a runway and turned over at an airfield in the Voronezh region, central Russia, on Thursday, a military source told Russian news agency RIA Novosti.
According to the source, who spoke on condition of anonymity, the aircraft experienced a failure of a brake parachute during the landing. "The incident took place at the Buturlinovka airfield. Preliminary reports indicate no casualties or damages to airfield structures," the source said.
Later, the Russian Defense Ministry confirmed the accident, RIA Novosti wrote.
This has been the first accident with the Su-34 in the history of the Russian Air Force.
Another aircraft, the MiG-29 fighter jet, went down on Thursday while on a training mission near the Ashuluk shooting range in the Astrakhan region, about 1,100 kilometers (nearly 700 miles) south of Moscow, ABC News reported.
The two crew members have bailed out safely and hospitalized; one is in serious condition, according to local health officials. There is no damage on the ground.
The Russian Defense Ministry says in a statement carried by Russian news agencies that the air force has grounded its MiG-29 fleet pending the outcome of an official probe into the crash.
If you see a spelling error on our site, select it and press Ctrl+Enter