Russia again fakes evidence on MH17 crash - Bellingcat experts
16:31, 09 June 2015
World
Claims by representatives of Russian military concern Almaz-Antey that a Ukrainian missile shot down Malaysian Airlines Flight MH17 in July last year are untrue, according to an analysis of experts from fact-checking project Bellingcat, news Web site Meduza has reported.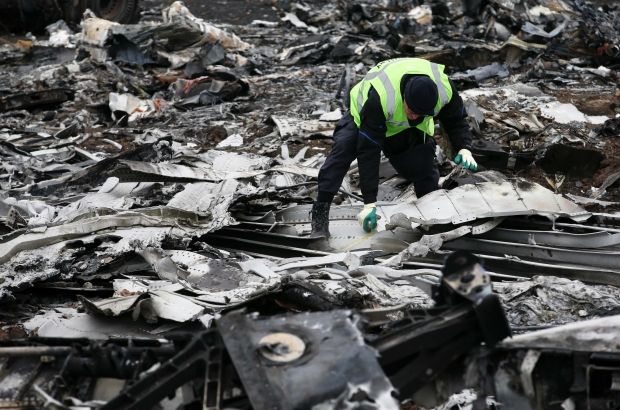 REUTERS
As stated in the report of Almaz-Antey, the plane was shot down by a Buk-M1 9M38M1 missile. The rocket homed in on the aircraft, crossing its course at an angle 72-78 degrees horizontal and 20-22 vertical; with the report claiming that the rocket was launched from the area of ​​Zaroschenske, which was controlled by Ukrainian military.
The report also noted that the production of missiles of this type in Russia was stopped in 1999 - three years before the establishment of the concern; whereas such complexes were still used by the Armed Forces of Ukraine.
"There are these kinds of missiles in Russia. And there are lots of videos and photographs that confirm this. In fact, it is one of their main theses, and its unreliability discredits the whole report," said one of the Bellingcat project experts, Iggy Ostanin.
Bellingcat founder Eliot Higgins said that the MH17 was destroyed by a Buk missile system that was transported through the territory controlled by the separatists in a truck on July 17 and 18.
"Apparently, the anti-aircraft missile system was equipped with 9M38M1 missiles, so we agree that this report refers to the same [type pf missile]. As for the trajectory of the missile, we rely on our research, according to which the launch site was south of Snizhne, which is different from the place indicated by Almaz-Antey" Higgins said.
"I am convinced that the experts of Almaz-Antey are lying about the launch site. That is why they made a proposal to recreate the crash of the aircraft, realizing that no one would agree to this. After all, who wants to buy an airplane that is just going to be shot down?" the Bellingcat founder added.
Journalists previously noted that the presentation by Almaz-Antey  repeated almost verbatim a report leaked by "Russian engineers" to Russian newspaper Novaya Gazeta about a month ago. It included pictures provided by the Russian Defense Ministry indicating that the launch was from the village of Zaroschenske.
Shortly before the press conference of Almaz-Antey, Bellingcat released its own report, which indicated that those pictures were fake.
The pictures were later removed from the Almaz-Antey report. 
If you see a spelling error on our site, select it and press Ctrl+Enter