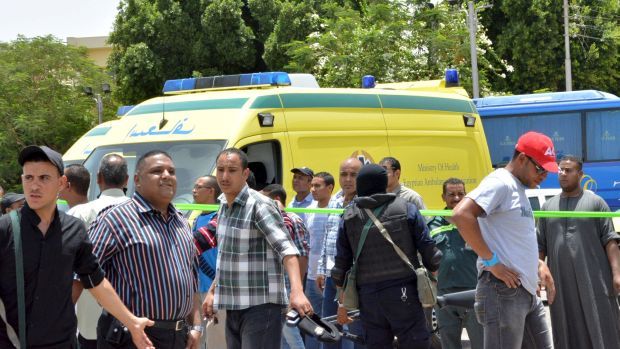 REUTERS
The terrorist targeted a bus with tourists. No tourists were killed or hurt in the late morning attack, according to Egyptian Interior Ministry, kommersant.ru reported.
According to Egyptian media reports, the tourist police in Luxor spotted the extremists before the attack and opened fire on them. One of the gunmen was shot and killed, but the second managed to blow up explosives fixed on his body, while two others were arrested.
According to other media reports, police shot and killed two bombers. Four Egyptians were injured - two policemen and two owners of souvenir shops located at the entrance to Karnak. The Mena news agency confirmed, citing a source in the Interior Ministry of Egypt, that no tourists were hurt by the explosion.
Later, three explosive devices in the temple complex were successfully defused by the security forces, preventing a major terrorist attack.
As reported by Russian newspaper Vedomosti referring to Reuters sources, Egyptian law enforcement bodies reported that three armed men in a car had tried to break through a control barrier. Two of them got out of the car, started a firefight with the police and were killed. A third broke through the fence in the car and blew himself up in the territory of the temple.
Currently, the country's special services are carrying out an operation to search for possible accomplices of the attackers in the surrounding areas of the city of Karnak.
Egypt's Interior Ministry has strengthened security at popular tourist sites and checks at monuments across the country.
As also reported on Wednesday, Egyptian security officials managed to prevent two more attacks on tourist sites, one of which extremists attempted to commit at the Great Pyramids of Giza near Cairo.