Jeb Bush supports expansion of NATO's presence in Europe
11:53, 11 June 2015
World
Former Florida Governor and a possible U.S. Republican Party presidential candidate Jeb Bush has supported the idea of expanding NATO's military presence in Eastern Europe, according to Russian news agency TASS, with reference to U.S. newspaper the Los Angeles Times.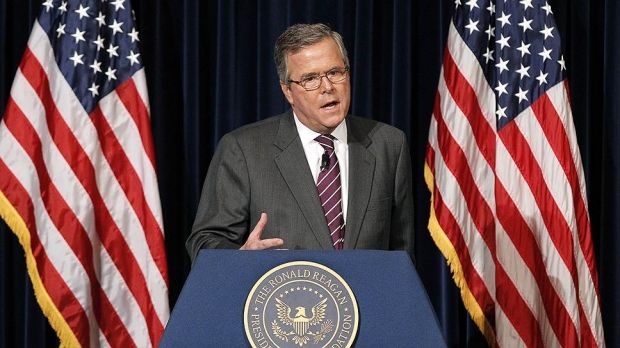 REUTERS
Seeking to burnish his credentials as a plausible commander-in-chief, Jeb Bush stepped up his criticism Wednesday of Russian President Vladimir Putin, calling the Russian president a bully who should be restrained.
Speaking in Berlin on the second day of a three-nation European tour before he formally announces his campaign for president, the former Florida governor called for a more robust international response to counter Russian military support for separatists in eastern Ukraine.
"He's a bully," Bush told reporters here. "And ... you enable bad behavior when you're nuanced with a guy like that."
But Bush struggled to differentiate himself from current U.S. policy in the region.
He said the North Atlantic Treaty Organization ought to consider permanently stationing troops in Poland and Baltic nations that are on the front lines of the conflict. Members of the security alliance, including the United States, have considered and rejected that proposal in the past.
The Obama administration and other NATO governments instead have rotated more troops through those countries, and stepped up military exercises, intelligence sharing and regional air and sea patrols since early 2104, when Russia effectively annexed the Crimean peninsula in Ukraine.
"We have troops there now that move in and out, training exercises. But I think they could be more robust," Bush said.
"You see the difference between our training exercises and the Russian training exercises, where they deploy tens of thousands of people in the region. I mean, literally next door to our allies and our response is far less meaningful."
On Wednesday, the U.S. politician is to visit Poland, and then the Baltic states. The day before he spoke at an economic forum organized by the Christian Democratic Union, where he also criticized Russia's actions.
If you see a spelling error on our site, select it and press Ctrl+Enter