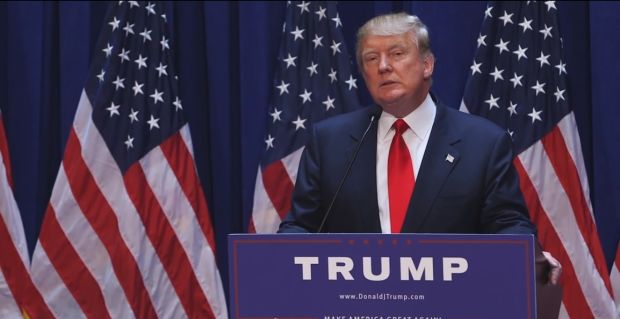 Video screenshot
"I'm officially running for president of the United States," he wrote.
"Sadly the American dream is dead. But if I get elected president, I will bring it back, bigger and better and stronger than ever before and we will make America great again," Trump said.
Trump made the announcement at Trump Tower in New York, descending on an escalator to stand at the podium before a backdrop of American flags. He portrayed himself as a tough negotiator and entrepreneur who can succeed where political leaders have failed.
"Our country is in serious trouble," he told them in a rambling address that ranged from the threat from ISIS to the value of fracking to the recent prison escape in New York.
"We don't have victories any more. ... When was the last time anybody saw us beating, let's say, China in a trade deal? They kill us. I beat China all the time. All the time."
On Monday, Trump took a shot at the newest entrant to the 2016 Republican field, Jeb Bush, tweeting: "Do we really need another Bush in the White House — we have had enough of them."
As UNIAN reported earlier, Jeb Bush, heir to one of American's most successful political dynasties, sought to jump-start his presidential campaign Monday as a scrappy political outsider after failing in recent months to emerge as the undisputed front-runner for the 2016 Republican nomination.
Without providing specifics, Bush repeated his call for 4% annual economic growth and added that would translate into 19 million new jobs.