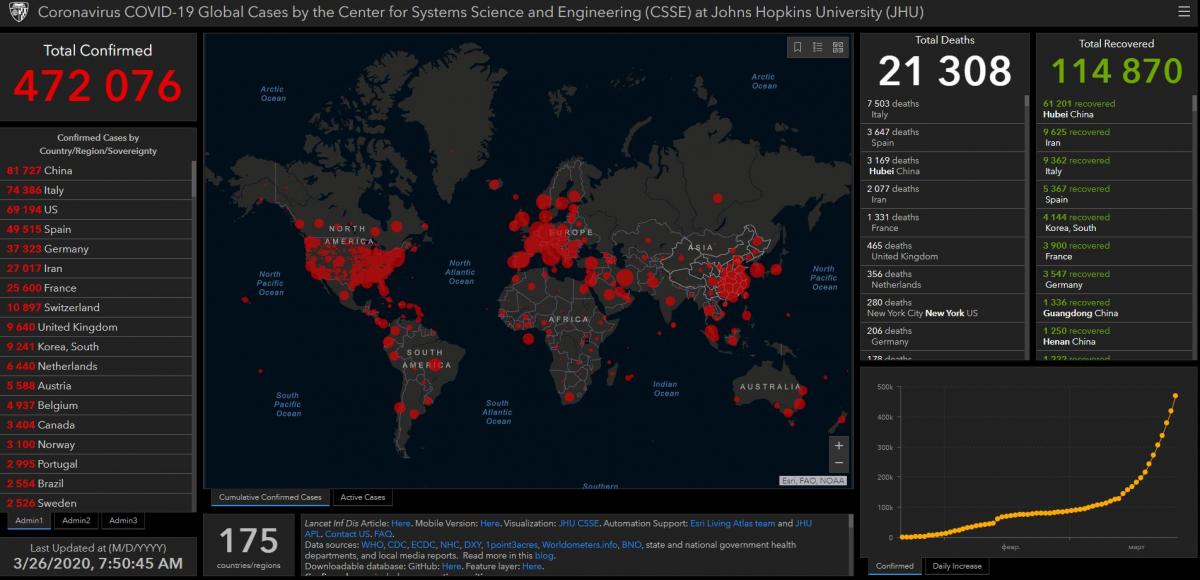 Coronavirus COVID-19 Global Cases dashboard / Screenshot
The number of deaths from the novel coronavirus originating from China's Wuhan has risen to 21,308 people.
As of March 26, there were 472,109 cases in total confirmed globally, according to the Coronavirus COVID-19 Global Cases dashboard by the Center for Systems Science and Engineering (CSSE) at Johns Hopkins University.
Read alsoNational emergency and quarantine extension: how new moves by Cabinet will affect everyday life of Ukrainians
Some 114,870 people have already recovered.
As of Thursday morning, there were 81,731 cases confirmed in China, 74,386 in Italy, 69,197 in the United States, 49,515 in Spain, 37,323 in Germany, 27,017 in Iran, 25,600 in France, 10,897 in Switzerland, 9,640 in the United Kingdom, 9,241 in South Korea, 6,440 in the Netherlands, 5,588 in Austria.
Italy reported the highest number of deaths among other countries (7,503 people).
Coronavirus cases were registered in 175 countries.
Ukraine confirmed 145 cases as of March 25.
As UNIAN reported earlier, the outbreak was first reported by China late in December 2019.