Czech president says country ready to accept refugees from Ukraine
14:55, 25 June 2015
World
Czech President Milos Zeman has said his country is ready to accept refugees from Ukraine, as they are hardworking and able to assimilate into Czech society.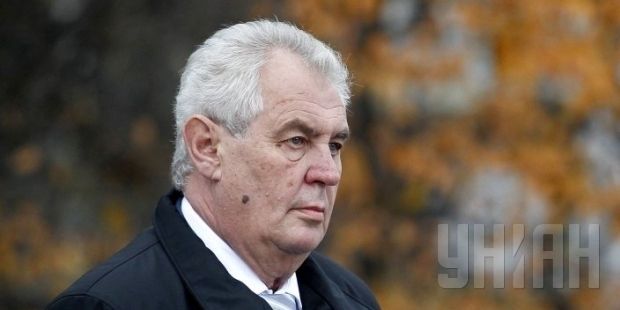 UNIAN
The Czech President said this when asked to comment on the situation with the implementation of the EU's refugee policies, Radio Liberty reported.
"I think that we would not have to accept any refugees from countries distant from us in terms of culture. It is quite different with accepting, let's say, Ukrainians," Zeman said on Wednesday during a meeting with the community of the city of Jihlava.
According to the Czech President, those who come from Ukraine are distinguished by being hard-working, and as they have no great language divide with the Czechs they can easily integrate.
"Foreigners in the Czech Republic account for 5% of the total population, and the majority of them are Ukrainians," Zeman said.
Brussels has announced its intention to accommodate in EU territory about 40,000 refugees in accordance with the quota system. The right to asylum is to be provided above all to those who have been forced to flee their homes due to armed conflicts in their home countries. France, Estonia, Britain, and the "Visegrad Four" countries (the Czech Republic, Hungary, Poland and Slovakia) have expressed disagreement on this issue.
Hungary previously announced that it was suspending the provisions of the EU with regard to refugees, since in this year alone the country has received about 60,000 illegal migrants. However it backtracked on the decision recently.
The prime ministers of the Visegrad Four consider the proposed mandatory quotas for refugees across the European Union unacceptable, and they are unhappy about the EU debate on dealing with the migration crisis, they said in a joint resolution the Czech Government Office released on June 24.
It says the V4 countries are ready to act in the spirit of solidarity, but they insist on a voluntary basis in harmony with the April 23, 2015 declaration by the heads of state and government with regard to the specificities and receiving capacities of particular member countries.
The prime ministers said any requirement for mandatory quotas is unacceptable.
If you see a spelling error on our site, select it and press Ctrl+Enter