Islamists decapitate man in attack on French gas factory
16:08, 26 June 2015
World
A man has been beheaded and at least one other person injured in a suspected Islamist attack on a gas factory near the French city of Lyon, Ukrainian newspaper Europeiska Pravda reported on Friday, with reference to the French publication Le Figaro.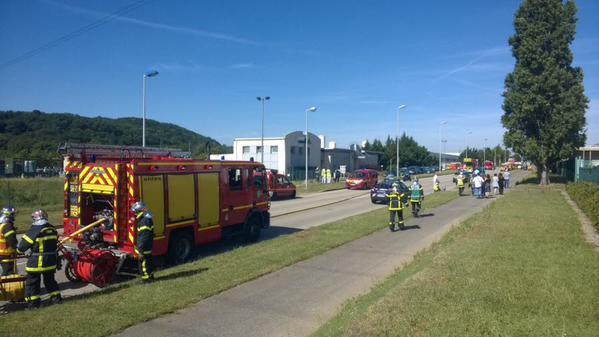 Photo from @ActuSecours
There were several small explosions, possibly caused by gas canisters, at the Air Products factory in Saint-Quentin-Fallavier, the BBC has reported.
The attack occurred around 1000 local time (0800 GMT), according to local media.
Reports suggest two attackers drove into the factory carrying a flag with Arabic writing on it.
Police sources said the decapitated head was found at the site, along with a flag bearing Islamist inscriptions.
Local newspaper Le Dauphine said one suspect had been arrested and was already known to French intelligence sources.
French media said the government had ordered security to be stepped up around sensitive sites in the surrounding Rhone-Alpes region.
If confirmed as an attack, it would be the second major such incident in France this year, coming after Islamist gunmen killed 17 people in January in attacks on the offices of the Charlie Hebdo satirical weekly and a Jewish food store.
If you see a spelling error on our site, select it and press Ctrl+Enter