Reuters: Dozens feared dead in Indonesian military plane crash
15:41, 30 June 2015
World
At least 55 people were killed when a military transport plane crashed into a residential area shortly after take-off in northern Indonesia on Tuesday, but the toll looked set to rise after it emerged that more than 100 people had been on board, according to Reuters.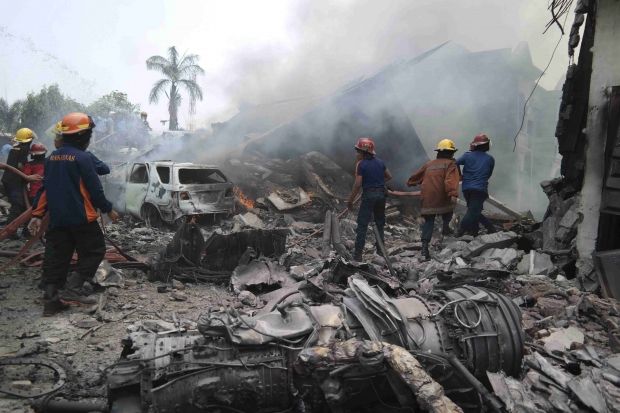 REUTERS
"It looks like there are no survivors," Air Marshal Agus Supriatna told Metro TV in the Sumatra city of Medan, adding that some of the 113 passengers were air force families.
Reuters says that the crash of the C-130B Hercules aircraft, which went into service half a century ago, is bound to put a fresh spotlight on Indonesia's woeful air safety record and its aging planes.
Officials said the plane plunged into a built-up area of the Sumatra city of Medan. Eye witnesses said it had appeared to explode shortly before it smashed into houses and a hotel.
An official at a nearby hospital who declined to be named said that 55 bodies had been brought in so far. In the first hours after the crash officials had said that only a crew of 12 service personnel were on board.
The Hercules transport plane was on its way from an air force base in Medan to Tanjung Pinang in Sumatra. Media said the pilot had asked to return because of technical problems.
If you see a spelling error on our site, select it and press Ctrl+Enter