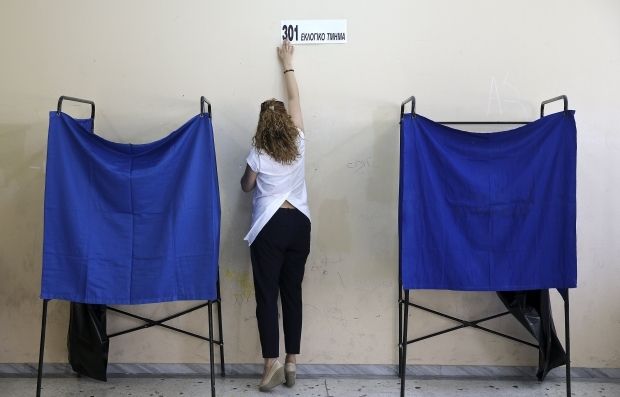 REUTERS
Months-long negotiations between the Greek government and the country's creditors – the European Commission, the European Central Bank, and the International Monetary Fund – ended in late June after Prime Minister Alexis Tsipras made a shock call to put a creditors' proposal for extending the debt-stricken country's bailout program to a referendum, according to DW.com.
Polling stations opened at 07:00 local time (04:00 GMT), with the first results expected on Sunday evening, BBC has reported.
The government has urged a "No" vote, but opponents warn this could see Greece ejected from the eurozone.
Greeks appear evenly divided over the issue, according to opinion polls. Turnout is expected to be high, after a frenetic week of campaigning.
Leaders in the governing radical-left Syriza party have criticized the bailout terms as humiliating. They say rejecting the terms could give them more leverage in talks over the country's massive debt.
But international creditors have warned that a "No" vote could choke off vital funding for Greek banks and lead to "Grexit – a chaotic departure from the common European currency. The "Yes" campaign has framed the vote as a referendum on Greek membership of the eurozone.
Supporters of both sides held rallies in Athens on Friday. Banks stayed shut because of capital controls imposed after the expiry of the current bailout program.
Greek Finance Minister Yanis Varoufakis told local media on Saturday that the EU had "no legal grounds" to throw Greece out of the euro.
On the eve of the referendum, he accused Athens' creditors of trying to sow fear around the vote. He told Spain's El Mundo newspaper: "Why did they force us to close the banks? To instill fear in people. And spreading fear is called terrorism."
Voting on whether to accept more taxes and pension cuts would be divisive in any nation, even at the best of times, according to Reuters.
In Greece, the choice is faced by an angry and exhausted population who, after five years of crippling austerity, has now suffered through a week of capital controls imposed to prevent the collapse of the nation's financial system.
Pensioners besieging bank gates to claim their retirement benefits, only to leave empty-handed and in tears, have become a symbol of the nation's dramatic fall over the past decade.