Japan to submit UN draft resolution on nuclear weapons elimination
12:46, 06 August 2015
World
Japan will submit a new draft resolution on the elimination of nuclear weapons at the 70th session of the United Nations General Assembly in September, Japanese Prime Minister Shinzo Abe said on Thursday at the opening of the Hiroshima Peace Memorial Ceremony on the 70th anniversary of the atomic bombing.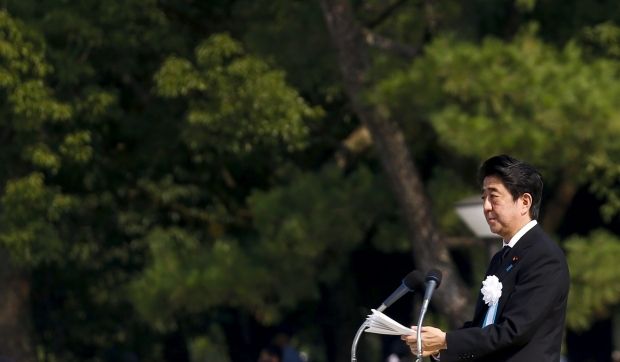 REUTERS
"As the only country to have ever experienced the horror of nuclear devastations in war, Japan has an important mission of realizing a world free of nuclear weapons by steadily carrying out a succession of realistic and practical measures," Abe said.
"We also have a duty to communicate far and wide the catastrophic humanitarian impact of nuclear weapons, across generations and beyond national borders," he added.
Read alsoDeputy Ecology Minister: Japan wanted to withdraw the "Kyoto money" from Ukraine, outraged that 'one of our hands does not know what the other is doing'
The Prime Minister pledged that his government would continue its support to a-bomb survivors.
Today, at 08:15:01 local time — at the exact time when the A-bomb was dropped on Hiroshima on August 6, 1945 - Peace Bell rang a minute of silence at the Hiroshima Peace Memorial Park. More than 55,000 local residents, politicians and public figures, and representatives from 100 countries took part in the ceremony.
UNIAN's memo. In the early hours of August 6, 1945, the Japanese air defense forces spotted a squad of U.S. warplanes approaching Hiroshima, but the command decided not to intercept them. An American B-29 bomber, the Enola Gay, piloted by Lt. Col Paul Tibbets flied without any obstacles over the city center and dropped the atomic bomb on the city of Hiroshima. The bomb, nicknamed 'Little Boy', exploded 580 meters above the ground unleashing a blinding flash followed by a deafening boom. From 70,000 to 100,000 people died instantly. By the end of 1945, the death toll rose to about 140,000. The explosion, equal to 12,000 to 15,000 tons of TNT, destroyed more than two-thirds of Hiroshima's buildings.
If you see a spelling error on our site, select it and press Ctrl+Enter