Two Ukrainians killed, 48 injured in road accident in Romania
13:57, 09 August 2015
World
Ukraine's Embassy in Romania has reported that two Ukrainians were killed and 48 were injured in a road accident in Romania in the early hours of August 9, according to the Ukrainian Ministry of Foreign Affairs.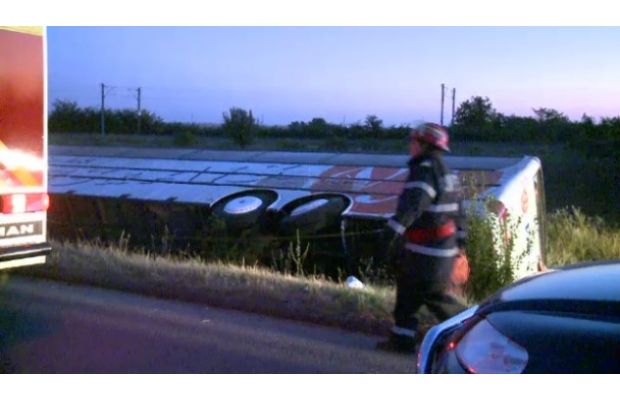 A road accident with a bus with Ukrainians in Romania / Footage from StirilePROtv, RomaniaTV
A bus carrying 51 Ukrainian citizens, including at least 25 children, went over 53 km far from Bucharest, Romania, along the Constanta-Bucharest highway at about 01:00 local time on August 9, the ministry's press service said.
Two Ukrainians, including a child, were killed, 48 were injured and rushed to five Romanian hospitals, the press service said.
A Ukrainian consul in Romania was on the scene and provided all the necessary assistance to the victims in cooperation with the Romanian authorities.
In addition, the Ukrainian Foreign Ministry asked the Romanian side to assist in issuing visas to the victims' relatives who are about to set out to Romania.
StirilePROtv, RomaniaTV
If you see a spelling error on our site, select it and press Ctrl+Enter