Over 40% of Russians support embargoed food destruction, 38% against
19:30, 21 August 2015
World
Russians have mixed feelings about the Russian authorities' decision to destroy embargoed food smuggled into Russia from the European Union, the United States, Australia, Canada and Norway: 42% believe the embargoed food needs to be destroyed, while 38% disagree, according to business daily Vedomosti, which cites the findings of the Public Opinion Foundation's poll.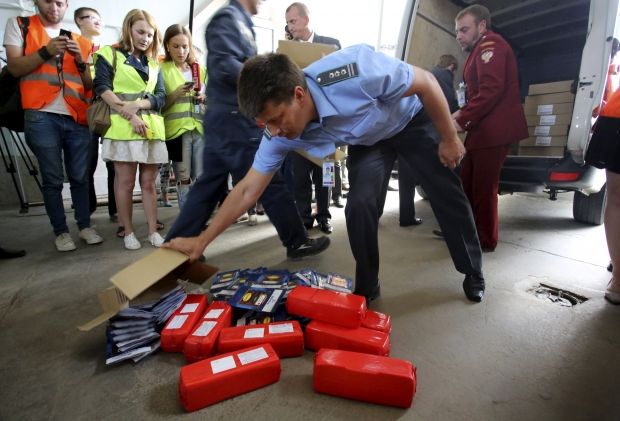 REUTERS
The poll confirms that most of Russians, or 83%, know about such a decision.
Those who support the destruction of embargoed foods claim that such foods fail to meet biosecurity requirements, they are of poor quality, after the expiration date and harmful (17%), and that domestic production should be developed and domestic producers should get support (8%).
Their opponents propose the distribution of the food among the needy (18%), orphanages or homes for elderly people (5%).
All in all, 70% of the polled agree with the Russian authorities' decision to ban imports of certain products from the European Union, the United States, Australia, Canada, and Norway. At the same time, those who call this decision erroneous account for 11%, while 19% are undecided.
The foundation polled 1,500 respondents in 104 villages, towns and cities in 53 regions on August 15-16.
On August 6, 2015, Russia extended for another 12 months its embargo on food imports from the U.S., the EU, Canada, Norway, and Australia. Meat and meat foods, fish and seafood, milk and dairy products, fruit and vegetables from those countries are subject to the embargo.
In late July, Russian President Vladimir Putin signed a decree ordering to seize and destroy farm produce from the abovementioned countries, which had backed economic sanctions against Russia, and embargoed by Russia starting from August 6.
As of August 19, Rosselkhoznadzor, a vet and biosecurity watchdog, reported about the destruction of 552 tonnes of contraband fruit and vegetables and 48 tonnes of contraband animal products. Embargoed foods are seized not only at the border but also in stores.
If you see a spelling error on our site, select it and press Ctrl+Enter