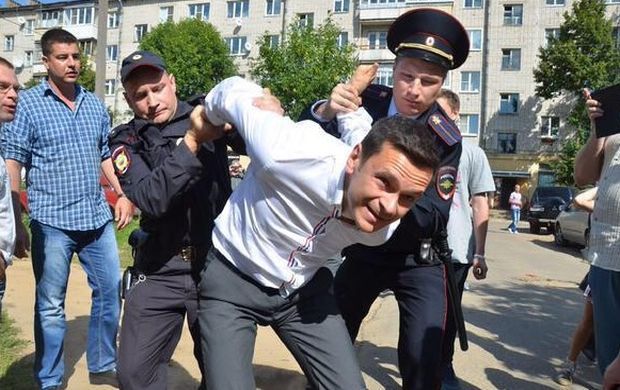 The arrest of Russian opposition leader / twitter.com/IlyaYashin
"Police officers and a FSB operative approached me during a meeting with voters. They twisted my hands, I was pushed into a car and driven to the police station," Yashin wrote.
According to Lenta.ru with reference to Roman Rubanov, head of the Fight against corruption fund, Yashin has been accused of an administrative offense "disobeying a police officer" and faces a 15-day arrest.
Parnas party has been registered in regional election committee of Kostroma region of the Russian Federation on August 14, with Yashin topping the electoral list.
Read alsoSentsov sentenced to 20 years, Kolchenko to 10 years in prison for terrorismEarlier, on August 8, the Kostroma regional election committee refused to register Parnas for elections. After Parnas filed a complaint to the Central Election Committee, the regional commission was ordered to re-examine the issue.
Elections to the Kostroma Regional Duma will be held in a single voting day on September 13.