Thousands of Beirutians protest against political leaders
11:29, 30 August 2015
World
Thousands of protesters waving Lebanese flags and chanting "revolution" took to the streets of Beirut on Saturday for an unprecedented mobilization against sectarian politicians they say are incompetent and corrupt, according to Reuters.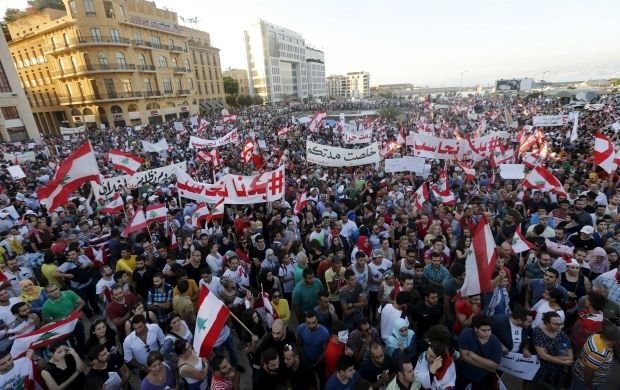 REUTERS
The "You Stink" protest campaign, ignited by a waste crisis, has widened to reflect anger at widely-perceived graft in the political class and the state's failure to provide basic services, Reuters has reported.
"People want the downfall of the regime" chanted groups of marching protesters, employing the slogan of mass movements that shook the Arab world in 2011.
Protesters mobilized after the government failed to agree on trash disposal, leaving piles of refuse stinking in the summer sun. Protesters say the crisis reflects the rot inside Lebanon's political system.
Similar protests descended into violence last weekend and Prime Minister Tammam Salam threatened to resign, a move that could tip the state struggling with political deadlock and spillover from Syria into deeper turmoil.
Campaigners are calling for the environment minister to resign, for snap parliamentary elections and a resolution to the garbage crisis. They want better public services in a country with daily electricity cuts and summer water shortages.
If you see a spelling error on our site, select it and press Ctrl+Enter