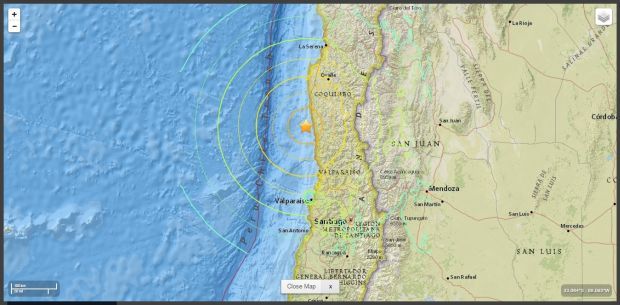 earthquake.usgs.gov
Chile's ministry of the interior and public security said five people had been killed and 1 million evacuated from their homes. A further 20 were injured, but phone networks remain down in parts of the country so the extent of damage and injury is likely to be under-reported, the report says.
The first tsunami hit the coastal Chilean city of Tongoy about 20:20 local time, a little more than 25 minutes after the earthquake. Pictures appear to show the city of Concon, popular with tourists, being deluged by waves.
Chile's President Michelle Bachelet spoke on national TV, saying Tongoy and Coquimbo had been extensively flooded and damaged. She has declared a catastrophe zone in those areas and mobilized the military to help civilians and prevent looting.
"Once again we must confront a powerful blow from nature," Bachelet told the nation.
Schools have been closed in several regions. The interior ministry's national office of emergency has urged people not to return to their homes until they are told it is safe to do so.
But the quake has also sparked fears tsunamis could surge across the Pacific Ocean, with countries as far away Japan, New Zealand, Russia and the U.S. states of California and Hawaii issuing watches, alerts and warnings.
The Pacific Tsunami Warning Centre says tsunami waves reaching more than three meters above the tide level are possible in Chile. Waves reaching one to three meters above the tide level are possible in French Polynesia. Waves reaching 0.3 to one meter above the tide level are possible for some coasts of New Zealand, Fiji, Hawaii, Mexico, Ecuador, Peru, Japan, New Caledonia, Samoa, Russia and other Pacific nations.
Waves could take up to 15 hours to reach New Zealand, and 21 hours to reach Russia.
A magnitude 8.8 quake in central Chile in 2010 and ensuing tsunami killed more than 500 people, destroyed 220,000 homes and washed away docks, riverfronts and seaside resorts.
That quake released so much energy it shortened the Earth's day by a fraction of a second, by changing the planet's rotation.
The strongest earthquake recorded happened in Chile in 1960 when a magnitude 9.5 tremor killed more than 5,000 people.