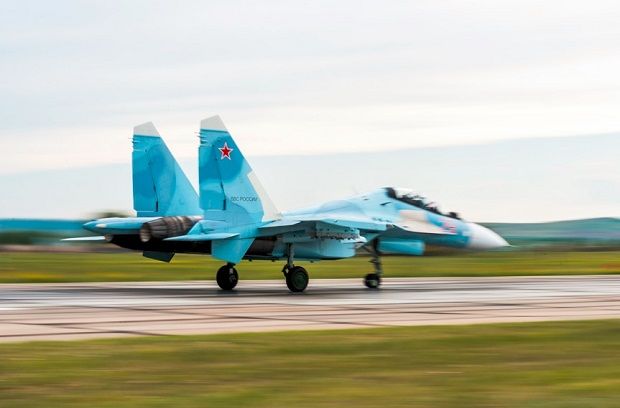 Russian multirole fighter jet Su-30SM / Photo from mil.ru
"A full-fledged combined aviation group has been formed at the Hmeimin airbase outside Latakia [Syria] from frontline bombers [Sukhoi] Su-24M and Su-34, assault planes Su-25SM and multirole fighter jets Su-30SM, as well as assault helicopters [Mil] Mi-24 and multirole helicopters Mi-8 belonging to the Aerospace Forces of the Russian Federation," the newspaper reported on Thursday, citing own sources in Russia's operative military command.
Kommersant also cited unofficial information that their redeployment to Latakia began simultaneously with the Center 2015 military exercises and an unscheduled inspection of the Central Military District on September 11-20 that preceded the drills, the newspaper said.
Four Su-30SM airplanes from the 120th combined air force regiment stationed at the Domna airbase in Chita region (Russia) were first sent to Mozdok in the Republic of North Ossetia-Alania (Russia) and on September 18, accompanied by an Ilyushin Il-76 military-transport airplane, they crossed the airspace of Azerbaijan, Iran and Iraq and landed in Latakia, Kommersant reported.
Some of the group's aircraft, namely six Su-34 planes, reached Syria bypassing Azerbaijan, flying over the Caspian Sea, Iran and Iraq, it said.
Russia's Defense Ministry declined to disclose the exact number of Russian troops taking part in this operation. Russian Armed Forces General Staff First Deputy Chief Nikolai Bogdanovsky only assured that conscript soldiers were not participating in "any activity abroad," Kommersant said.