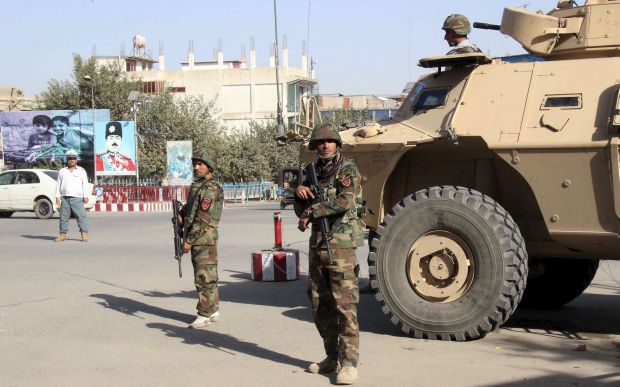 REUTERS
"U.S. forces launched an air strike at 02:15 a.m. (17:45 ET), the spokesman, Col. Brian Tribus, said in a statement, Reuters has reported.
"The strike may have resulted in collateral damage to a nearby medical facility," he added. "This incident is under investigation."
At the aid group's bombed-out hospital, one wall of a building had collapsed, scattering fragments of glass and wooden door frames, and three rooms were ablaze, said Saad Mukhtar, director of public health in Kunduz.
"Thick black smoke could be seen rising from some of the rooms," Mukhtar said after a visit to the hospital. "The fighting is still going on, so we had to leave."
Many patients and staff remain missing after the attack that happened at a time when almost 200 patients and employees were in the hospital, the only one in the region that can deal with major injuries, Medecins Sans Frontieres said.
"We are deeply shocked by the attack, the killing of our staff and patients and the heavy toll it has inflicted on healthcare in Kunduz," the aid group's operations director, Bart Janssens, said in a statement.
MSF said it gave the location of the hospital to both sides several times in the past few months, as well as this week, to avoid being caught in crossfire. It said the bombing continued for 30 minutes after Afghan and U.S. military officials were informed.
MSF said it had treated almost 400 patients in the 150-bed hospital since fighting broke out, most for gunshot wounds.
So many patients have flooded in that the hospital has had to put them in offices and on mattresses on the floor. The International Committee of the Red Cross said it was "deeply shocked" by the incident.