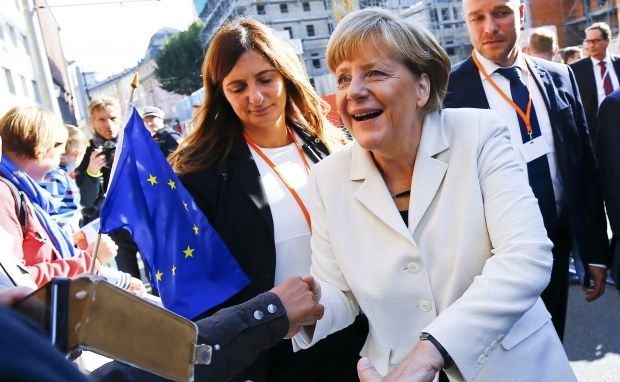 REUTERS
Frankfurt takes center-stage for this year's public events while German Unity Day is also being marked around the world. Chancellor Angela Merkel and President Joachim Gauck are among those due to attend, DW reports.
Each year since 1990, a city has been chosen as the public expression of German Unity Day celebrated on October 3.
Bundesbank President Jens Weidmann opened a presentation about monetary union and remarked: "The exhibition also reminds us that Frankfurt was the starting point for a huge step on the path to German unity." The exhibition is part of "FRANKFURTinsights - the 1,000 wonders of Frankfurt." The city, which is home to the European Central Bank, is staging a series of events over the weekend.
The steps towards re-unification between East and West Germany began one November night in 1989 when German Democratic Republic (GDR) citizens were told they could travel to West Berlin without formal travel passes. Within days, West German Chancellor Helmut Kohl announced his ten point plan for "Overcoming the division of Germany and Europe."
Elections in the GDR in March 1990 brought an East German counterpart of Kohl's Christian Democratic Union (CDU) party to power and the two states began to discuss economic and currency union. The USA, Soviet Union, UK and France were consulted over foreign and security policy.
By July the Deutschmark replaced the Ostmark, economic union was achieved and a second treaty - for German Reunification - was drawn up. In August 1990, the date of October 3 was agreed for Germany's official reunification, with Berlin as the capital.