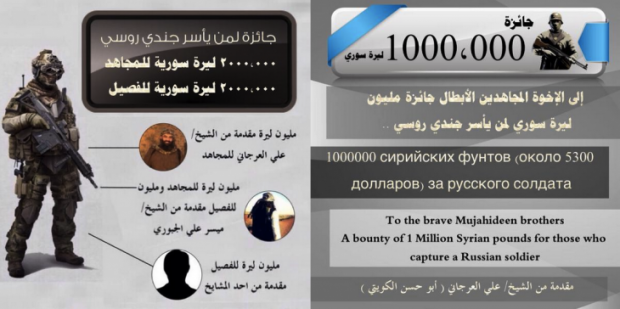 twitter
"To the heroic Mujahideen brothers, a prize of a million [Syrian pounds] to anyone who takes hostage a Russian soldier," wrote Abu Hassan al-Kuwaiti, a spiritual leader of the Nusra Front, in a tweet that has been retweeted more than 150 times and shared widely among online jihadi sympathizers on Twitter, Newsweek reports.
Although Newsweek could not independently verify that the account was owned by al-Kuwaiti, Aymenn Jawad al-Tamimi, an expert in the monitoring of online extremists and a fellow at the U.S.-based think tank The Middle East Forum, told Newsweek by email that the bounty had been publicized by al-Kuwaiti, describing him as an "important figure" in the terror group's structure.
Read alsoHammond: Russia conducting 'asymmetric warfare' in Syria"The motivation to capture a Russian soldier is not necessarily going to be the financial reward," says Laith Alkhouri, co-founder and Middle East and North Africa director of research and analysis at U.S.-based internet monitoring group Flashpoint Intel. "It's not a massive amount of money, but that kind of money can really facilitate the movement and operations for a lot of soldiers and it actually is significant for Syrians themselves."
The Nusra Front has been energized by Russia's entry into the Syrian civil war and is likely using the offer of a bounty as a tool to attract jihadis from the former Soviet Republics, says Michael Horowitz, security analyst at the Tel Aviv-based geopolitical risk consultancy The Levantine Group.
Read alsoRussia says to increase air strikes in Syria"The fact that al-Qaeda, via its official branch in Syria, is once again fighting Russian forces, decades after the USSR was defeated in Afghanistan, is also a powerful image that could serve to unify jihadist groups in northern Syria. Nusra will most certainly try to use this image and any operation against Russian forces—including the kidnapping of a Russian soldier—to gain momentum in the deadly competition with Islamic State [ISIS]," says Horowitz.
Another prominent jihadi cleric linked to the Nusra Front also recalled Russia's war in Afghanistan on Friday, warning that Syria will become a "graveyard for invaders," the Associated Press reported.
Read alsoRussian air strikes in Syria to last 3-4 months - media "Oh Russian people, did you forget the Afghan quagmire? Do you want to enter a new quagmire? The people of the Levant will stand up to you," Abdullah al-Muhaysini, a Saudi militant based in Syria, said in a video statement.