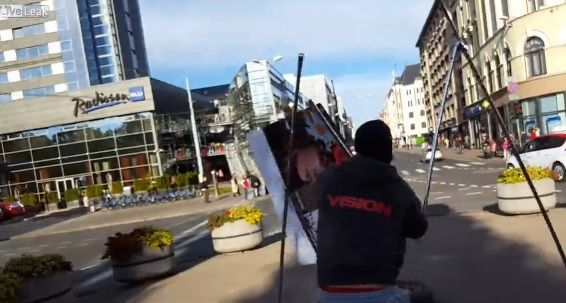 In Riga, the vandals disrupted the opening of the photo exhibition devoted to the Maidan events / screenshot
The video has been released on the Internet showing an unidentified person tearing down flag of Right Sector [one of Ukraine's volunteer movements], shredding it with a knife.
Read alsoU.S. to grant $500,000 to counter Russian propaganda in Baltic States"Before the attack, some strange people came up on the exhibition site. These people called themselves journalists, but their first words were not 'Hello!' or 'How are you?' but 'Who authorized the exhibition?'... These people stuck around for a while, and we invited them to a press conference. They haven't left their business cards and just left. About an hour later, there was an attack," said Sergei Alekseyev, representative of the organizers of the exhibition.
Alexeyev said that the damage amounted to neraly EUR 25,000-30,000. A criminal case was opened into the incident.