IS makes closest advance to Aleppo, Iranian killed
16:27, 09 October 2015
World
Islamic State fighters have seized Syrian villages on the outskirts of Aleppo from rival insurgent fighters, a monitoring group said on Friday, despite Russian air strikes that Moscow says have targeted the militant group, according to Reuters.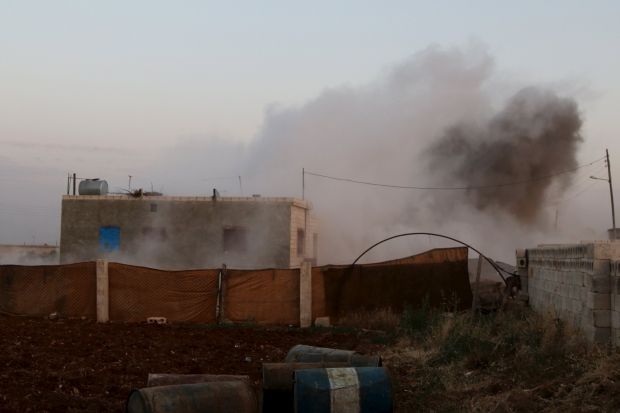 REUTERS
Islamic State are now within two kilometers (one mile) of government-held territory on Aleppo's northern edge, the closest they have been to the city, the report says.
Islamic State said its fighters had captured five villages in its offensive and killed "more than 10 apostates," a term it uses to describe Syrian soldiers and their militia allies.
The UK-based Syrian Observatory for Human Rights said it was the biggest advance by Islamic State since it launched an offensive against rebels in the northern Aleppo countryside near the Turkish border in late August.
Russian jets and warships have been bombarding targets across Syria for 10 days in a campaign which Moscow says is targeting the Islamic State fighters who control large parts of north and east Syria, as well as swathes of neighboring Iraq.
But the campaign appears to have mainly struck other rebel groups, some of which - with Western and Gulf support - had been battling to stop the Islamic State advance across Aleppo province. One of those groups, Liwa Suqour al-Jabal, said the Russian strikes destroyed their main weapons depot.
The Observatory reported a new wave of Russian air strikes on Friday morning in Hama and Idlib, apparently in support of a ground offensive launched this week by Syrian troops and allied militia against rebels.
The offensive has focused around the Ghab Plain, next to Syria's western mountain range which forms the heartland of Assad's Alawite minority, and the main north-south highway between the cities of Hama and Idlib.
Securing those areas would help consolidate Assad's control over Syria's main population centers in the west of the country, far from the Islamic State strongholds in the east.
If you see a spelling error on our site, select it and press Ctrl+Enter