Russia: experiment shows MH17 shot down from Ukrainian-controlled area
14:00, 13 October 2015
World
Russian Buk producer JSC Almaz-Antey claims that the IL-86 aircraft was used in an experiment to simulate an attack on Malaysian Boeing over Donetsk, and it was "proved" that the missile had been launched from the territory controlled by Ukraine, CEO Group Yan Novikov said at a press conference in Moscow on Tuesday, according to an UNIAN correspondent in Russia.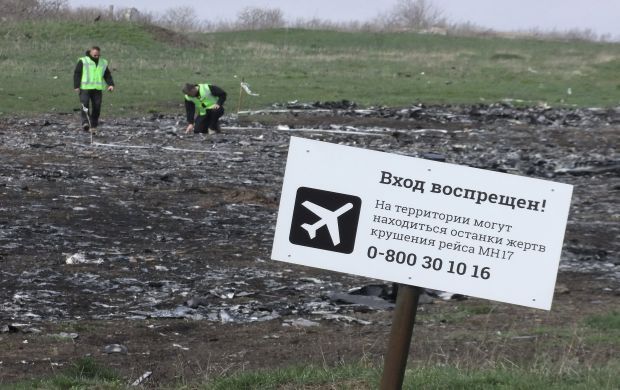 REUTERS
"Expert Group held two full-scale field experiments, the results of which will be presented today," he said at a press-conference set up just ahead of the Dutch Safety Board's announcement on its investigation results on Tuesday.
According to Novikov, on July 31, the first experiment was carried out with undermining 9M38M1 rocket over the aluminum shields, simulating the fuselage of the aircraft. As a result, it became clear that Malaysian aircraft was hit by a Buk missile, but it could be just a 9M38 missile - an older modification. The last missile of this type was launched in the USSR in 1986. Russia's armed forces removed this type of missiles from service in 2011.
Read alsoRussia again fakes evidence on MH17 crash - Bellingcat experts 
According to him, the Dutch Commission refused to accept the results of the first experiment. After that, it was decided to conduct a second experiment.
"The concern decided to conduct the second full-scale field experiment. Because of the absence of decommissioned Boeing 777 for the experiment, we used IL-86 aircraft, the fuselage of which is similar to the basic parameters of Boeing 777. The experiment took place on October 7. We used a 9M38M1 missile," Novikov said.
He said that the missile was not launched from the militant-occupied territory - the village of Snizhne.
"Today we can say with certainty that if Boeing was shot down by a Buk missile system, it was hit by a 9M38 missile from the village of Zaroshchenske," Novikov said.
Read alsoMH17: Bellingcat identifies those involved in transporting BukHe said that the results of the Almaz-Antey study on the Boeing crash in Donbas "totally refuted" the findings of the Dutch Safety Board on the type of missile that could hit an aircraft.
"The results of the experiment completely refuted the conclusions of the Dutch Commission on the type and location of the missile launching," he said.
According to him, the simulation of Malaysian Boeing crash conducted by the Dutch Safety Board does not explain why they believe that the aircraft was shot down from Snizhne.
"The main way to prove that the plane was shot down from Snizhne was to simulate the process and to explain the damage on the outer casing," Novikov said.
As UNIAN reported earlier, Russia vetoed a resolution of the UN Security Council on July 30 on setting up an international tribunal to prosecute those responsible for the downing of MH17.
If you see a spelling error on our site, select it and press Ctrl+Enter