UK Defense Minister: Logic for British air strikes in Syria 'inescapable'
12:30, 19 October 2015
World
The "logic" for British jets carrying out air strikes against terrorists in Syria is now "inescapable," Britain's Defense Secretary Michael Fallon has said as he raised the prospect of an "accidental confrontation" with Russia if the UK goes to war in the region, according to The Telegraph.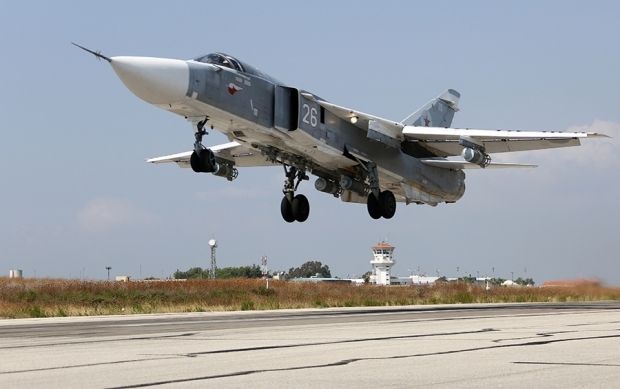 stat.mil.ru
Fallon said that the British military should be deployed in Syria to tackle Isil jihadists if the Government is able to get Parliamentary approval, the report reads.
However, he admitted that he is worried that it could lead to an "accidental confrontation" with Russian forces, which are now carrying out operations in the region.
Fallon said that Russian aggression in the region should not "divert us for a moment from our focus against Isil."
Speaking to the Andrew Marr program on BBC 1, Fallon was asked if he "hopes" to be able to send British planes to carry out targeted strikes against Isil jihadists in Syria.
"The logic is inescapable," he said. "Isil is a huge threat to this country, to the stability of Iraq, to the stability of the whole region and has carried out barbarous acts."
He said that Vladimir Putin's decision to launch attacks in Syria is "prolonging the conflict" and helping to "prop up" the regime of Bashar al-Assad.
"What Russia is doing is propping up the Assad regime, making the resolution of all this more difficult. They are prolonging the conflict and civilians are being killed," Fallon said.
"The RAF strikes are done to very strict rules of engagement. They've been striking in Iraq for a year where so far there have been no civilian casualties. The Russians have been at in Syria for a couple of weeks and independent reports estimate that they've killed several hundred people already."
"I don't think we should let Russia divert us for a moment from our focus against Isil. Don't let's forget that Isil beheaded British hostages. They were behind the slaughter of 30 British holidaymakers on a beach in Tunisia. They've been killing Christians, gays, they've been carrying out unspeakable acts of brutality. They are a very direct threat to the peace in the Middle East and they are a direct threat to us in the United Kingdom," Fallon said.
Asked if he is "worried" about the potential for an "accidental confrontation" with Russian forces if Britain goes to war in the region, Fallon said: "Well I am worried, yes. When you have this activity – you've seen on the Turkish border, which is a NATO border, you've seen incursions into Turkish airspace. Obviously there is the danger of accidents, of incidents taking place that inflame the tension."
"We have to deal with Isil. That is our focus," he added.
If you see a spelling error on our site, select it and press Ctrl+Enter