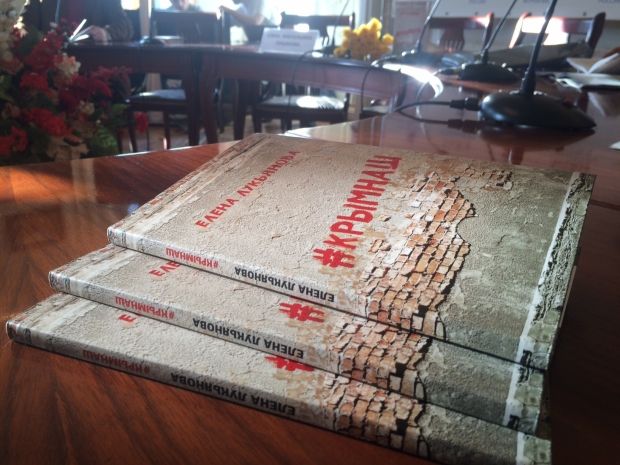 Presentation of a book # Krymnash
"The book contributes to the understanding of why the Crimea is not ours," said Belkovsky presenting the book which title represents a hashtag popular in Russia, "Krymnash," which translates as "Crimea is Ours."
"In my opinion, everything that is connected with the Crimea, is subject to psychoanalysis rather than some political or legal analysis. That what happened is the desire of a particular individual to compensate for his inferiority complex," he said.
At the same time, the author, Yelena Lukyanova, who is a Russian lawyer, said that the legal "expertise on Crimea showed that the legal procedures have been violated repeatedly."
The expert believes that the Agreement on Crimea's Accession in Russia was not assessed properly on compliance with international treaties and the Constitution of the Russian Federation.
Read alsoUkraine angered as Geography textbook shows Crimea as part of Russia"Had all of these rules been complied with, the Constitutional Court could not have issued a core ruling in the process of Crimea and Sevastopol becoming part of the Russian Federation," said Lukyanova.
Lukyanova stressed that the book is only beginning of a panel discussion, and it will be further supplemented and re-issued.
Read alsoRestoring justice: Recognizing genocide of Crimean Tatars on global agenda Another co-author, Yevgeny Ikhlov, pointed out that during a serious analysis of the circumstances of Crimea's annexation it will be noted that the Supreme Council of Crimea took a decision to secede from Ukraine under the circumstances of occupation of the peninsula by Russian special forces, while the decision to deploy troops in Ukraine was approved by the Federation Council on the basis of false information.