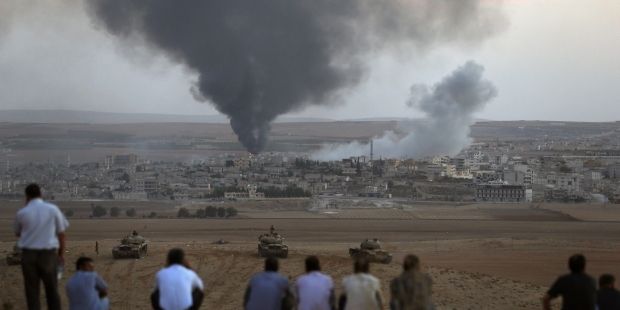 REUTERS
"Russian planes fly at higher altitude, and appear suddenly without warning," said Firas al-Said, a citizen journalist based in Talbiseh. "With regime planes, you can hear them coming," the report says.
Videos recently uploaded to social media by the Talbiseh Media Center show locals bemoaning the presence of Russian planes above Homs province.
Other, more graphic clips show charred, lifeless bodies, civilians carrying stretchers attempting to locate survivors among piles of rubble, and medics treating agonized victims in makeshift field units.
Human Rights Watch (HRW) has called for an investigation into the September 30 air strikes on Talbiseh as a potential violation of international law.
However, humanitarian groups say compiling evidence will take time due to the lack of international monitoring groups on the ground.
"Local activists have relentlessly reported violations of international humanitarian laws," in Syria, said Diana Semaan, a campaigner at Amnesty International.
"Based on videos and information from activists on the ground, the air strikes have killed civilians. However, we don't yet have concrete information."
Elliot Higgins, founder of Bellingcat - a platform for citizen investigative journalism - said the group is compiling all airstrike videos made available by Russia's Ministry of Defense.
They will then be correlated with videos recorded by activists on the ground, to verify claims of civilian casualties from Russian air strikes.
The Syrian Observatory for Human Rights (SOHR) says 127 civilians have been killed by Russian air strikes to date.
President Vladimir Putin says the focus of Moscow's intervention in Syria is the Islamic State of Iraq and Syria (ISIS).
However, most Russian airstrikes have targeted rebel groups opposed to both ISIS and the Syrian regime.
The Institute for the Study of War says there is no ISIS presence in Homs. Analysts say Syrian President Bashar al-Assad is focused on Homs in order to secure control of Syria's main north-south highway (M5), linking the area with Damascus to the south, Aleppo to the north, and majority Alawite cities such as Tartus - where Russia maintains a navy base - on the Mediterranean.