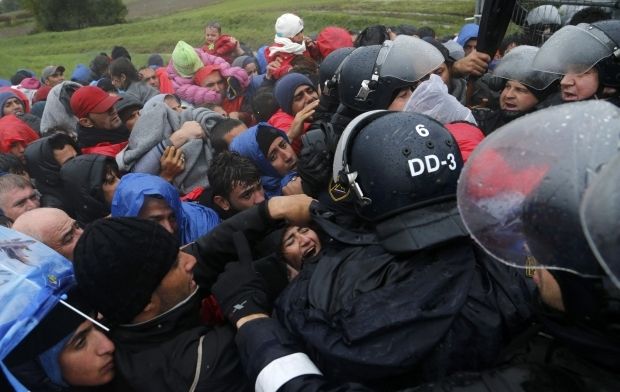 REUTERS
Juncker invited the leaders of the main countries of transit: Greece, Macedonia, Serbia, Croatia, Slovenia and Austria, as well as the former country of transit Hungary and potential future countries of transit Romania and Bulgaria, the WSJ said.
Germany, the main country of destination for all the migrants, will be represented by Chancellor Angela Merkel, who is struggling at home to maintain public support for a humane policy toward the migrants, while dealing with increasingly louder calls from local and regional politicians to stem the influx.
Juncker reminds everyone in the draft that "refugees need to be treated in a humane manner, to avoid a humanitarian tragedy in Europe." But there are also clear instructions on slowing down, if not stopping the flow altogether.
"Leaders commit to refrain from facilitating the movement of refugees or migrants to the border of another country of the region without the agreement of that country. A policy of waving through refugees to a neighboring country is not acceptable," the draft document states.
Pending approval by the leaders, the Juncker draft demands that all countries fingerprint and register all incoming migrants, in line with EU obligations, and return those who don't qualify for asylum. Those migrants who don't wish to apply for asylum can be refused entry into a country's territory, the text states.
Practical measures are envisaged: appointing contact persons in the leaders' offices within 24 hours to facilitate the exchange of information and coordination on how many people are expected to come through at any given time.
They are also set to beef-up border surveillance in Greece and deploy 400 border guards from other EU countries to Slovenia by next Wednesday.