Two MEPs punished for Nazi salutes
14:10, 27 October 2015
World
European Parliament's Bureau unanimously confirms fines and suspensions for MEPs Janusz Korwin-Mikke and Gianluca Buonanno for Nazi salutes and inappropriate statements, according to the European Parliament's press service, an UNIAN correspondent reported.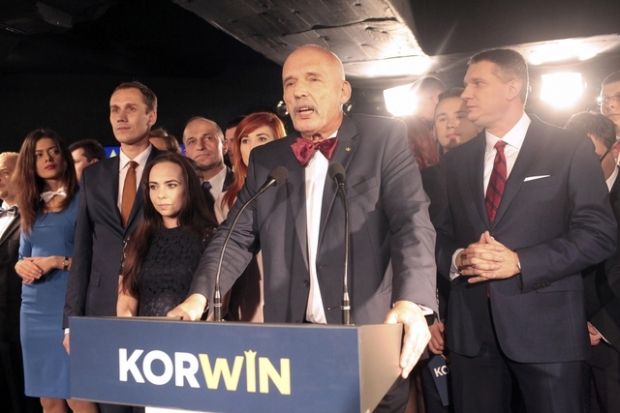 REUTERS
The European Parliament Bureau, consisting of its President and 14 Vice-Presidents, decided on Monday evening to confirm the sanctions which Parliament's President imposed on Polish MEP Janusz Korwin-Mikke and Italian MEP Gianluca Buonanno on 14 October, according to the report.
Korwin-Mikke and Buonanno have been suspended from participating in all activities of Parliament's official bodies for ten consecutive days (without prejudice to the right to vote in plenary) and will have to pay a fine of EUR 3,060 (equal to ten daily subsistence allowances).
It is reported that during the July 2015 plenary session, Korwin-Mikke "raised his arm in a Nazi salute and said 'This time it is ein Reich, ein Volk, ein Ticket,' in protest against an EU-wide transport ticket. Also, during a debate on September 8, he referred to migrants as "human garbage."
Read alsoPutin supporter in EP calls migrants human garbage Buonanno was punished for wearing a T-shirt at the October 8 plenary sitting bearing an image of Chancellor Merkel combined with parts of an image of Adolf Hitler. On the following day, during a debate with Chancellor Merkel and French President Holland, he also sported a fake moustache evocative of Adolf Hitler and made a Nazi salute.
It was noted that in both cases these were not the first such incidents.
If you see a spelling error on our site, select it and press Ctrl+Enter