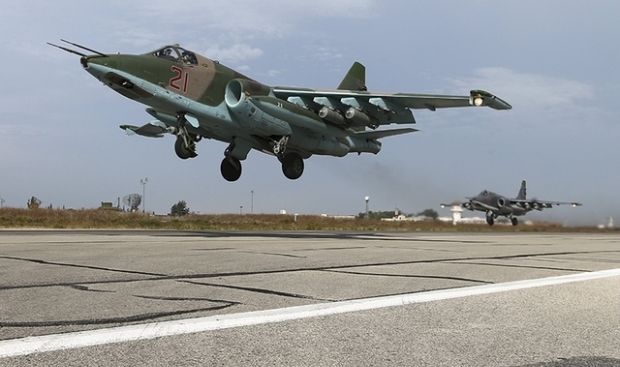 REUTERS
The survey shows that Russians closely monitor the Syrian conflict. According to the results of October, only 11% know nothing about the situation Syria (last month it was a third of citizens).
The number of those who are not interested in the policy of the Russian leadership in Syria has reduced from 33% to 18%.
Almost 39% of respondents believe the main harm from Russia's military campaign is deaths of Russian servicemen during the operation or in terrorist attacks against them.
Among other threats, the respondents identified a threat "to be involved in this conflict for a long time" and "an increase in the terrorist threat from the Islamic State (ISIS)." A total of 11% saw no harm.
Read alsoPoll: Almost 90% of Russians support PutinIn early October, 46% of respondents admitted that the military intervention could become a "new Afghanistan," but this time 11% fewer Russians shared these fears. Half of them said it was "unlikely" or "impossible."
A total of 66% of respondents still oppose the invasion. Russians support air strikes (54%), military advice and the supply of weapons (62%), humanitarian and diplomatic assistance to Syria. At the same time, 59% are not willing to accept refugees from the war-torn country.
Read alsoRussian journalist Arkady Babchenko: Russians want war. My nation wants warAccording to 47% of Russians, by participating in the war in Syria, the Russian government prevents the threat of "transferring hostilities of Islamic radicals and terrorists into the territory of Russia."
A third of respondents believe that Russia defends the government of Bashar al-Assad in order to prevent a chain of "color revolutions," "provoked by the United States around the world." A total of 18% believe that Russia defends the economic interests of Russian companies in the Middle East, while 17% of respondents said they did not understand Russia's motives.
A total of 48% of respondents believe that Russian airstrikes target ISIS positions, while 13% believe that the air force hits the opposition. A total of 21% of respondents said that Russia attacked both kinds of targets, and 70% were convinced that the airstrikes against ISIS were effective.
At the same time, the information on civilian casualties released by the Western media was falsified, according to 53% of respondents.
Read alsoPoll: 42% of Russians ready to give up freedom of speech and travel to other countries for "decent wage"The survey was conducted on October 23–26, 2015. A total of 1,600 people aged from 18 were questioned in 46 regions of Russia. The poll's margin of error is under 3.4%.