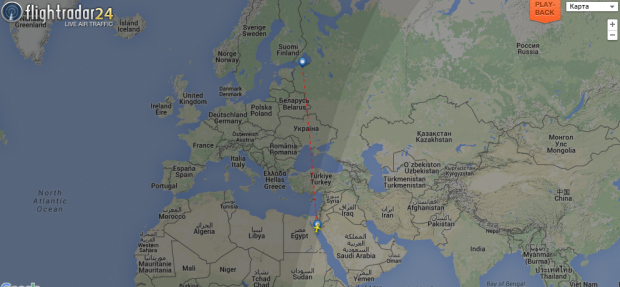 Screenshot
Egypt's North Sinai is home to a two-year-old Islamist insurgency and militants affiliated to Islamic State have killed hundreds of soldiers and police, Reuters reports.
After takeoff, the pilot requested change of route and a landing at Cairo airport due to technical problems, according to a source in Sharm el Sheikh airport, RIA Novosti reports.
As reported earlier, a Russian airliner Airbus A-321, operated by Russian airline Kogalymavia with registration number KGL-9268, which was flying from the Sinai coastal resort of Sharm el-Sheikh to St Petersburg, carrying 224 passengers and crew, went down in a desolate mountainous area of  Egypt's central Sinai soon after daybreak  on Saturday, the Egyptian prime minister's office and civil aviation ministry said.
The passenger plane was completely destroyed and most of those on board are likely to have died, an Egyptian security officer who had recently arrived at the scene told Reuters.