Azerbaijan's YAP claims win in elections
10:40, 02 November 2015
World
President Ilham Aliyev's ruling New Azerbaijan Party (YAP) has claimed a landslide victory in the country's November 1 parliamentary elections – a vote that was boycotted by Europe's largest monitoring agency and all of Azerbaijan's established opposition parties, according to Radio Liberty.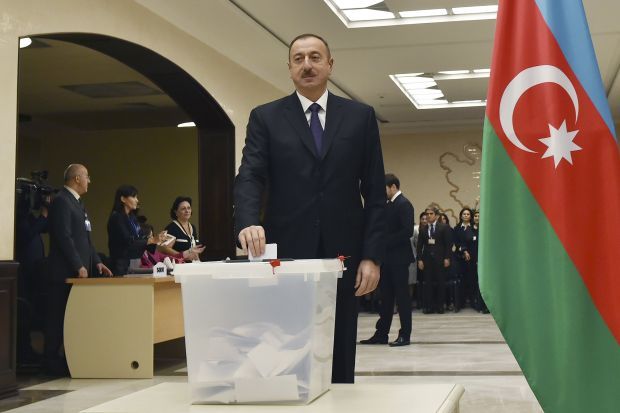 REUTERS
Aliyev's ruling party was widely expected to maintain its dominance as a result of the election, which came in the midst of a persistent government clampdown on dissent that shows few signs of being lifted, RFE/RL has reported.
The former Soviet republic's 5,547 polling stations closed at 19:00 local time and some 5 million Azerbaijanis were eligible to vote.
Azerbaijan's established opposition parties have refused to participate in the elections, though some individual opposition candidates are running for spots in the 125-seat parliament, which is dominated by YAP.
The established opposition parties said that the government's policy of offering free television air time to the ruling party, but requiring that all others pay commercial rates, made it unaffordable for them to campaign and reach a wide audience.
The election takes place amid a sustained two-year crackdown on opposition groups, human rights activists, and independent journalists that have decimated Azerbaijani civil society.
The Organization for Security and Cooperation in Europe's (OSCE) Office for Democratic Institutions and Human Rights (ODIHR) refused to send monitors to the polls after Baku sought to limit their number to a core team of 131 long and short-term observers.
That is about one-third of the number of monitors that the OSCE – whose assessment of an election as fair or fraudulent is widely recognized as an evaluation of a country's democratization – felt was necessary to do its work.
Some other international observers, including from the Commonwealth of Independent States (CIS) and the Parliamentary Assembly of the Council of Europe (PACE), were monitoring the elections.
If you see a spelling error on our site, select it and press Ctrl+Enter