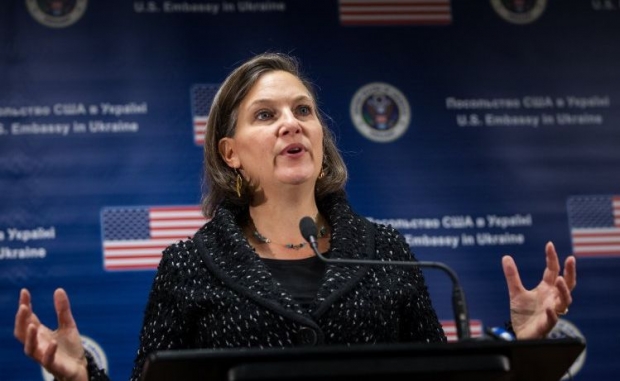 Photo from UNIAN
Nuland also said Moscow's air campaign in Syria was costing between $2 million and $4 million a day, and she described the effort, which has reportedly hit civilian areas, as immoral.
Nuland's comments came in testimony before the House Foreign Affairs Committee, where she and another top U.S. diplomat, Anne Patterson, assistant secretary for Near Eastern affairs, faced at-times withering criticism for the U.S. administration's strategy in Syria.
"Now Russia is fielding its own artillery and other ground assets around Hama and Homs, greatly increasing their soldiers' vulnerability to counterattack," she said, RFE/RL reports.
"Russia is hemorrhaging money in this latest adventure," she said.
Russia's deployment to Syria – its largest outside the former Soviet Union in two decades – has included advanced fighter jets, antiaircraft missile systems, tanks, and armored personnel carriers.
But much of the Russian weaponry has been positioned at of the Latakia air base in western Syria.
Analysts say little of that weaponry or Russian personnel have been seen directly on the front lines.
The overwhelming majority of ordnance dropped in Syria has been unguided "dumb" bombs, according to U.S. Defense Secretary Ash Carter and other officials.
Moscow has not announced any casualty figures, with the exception of the death of a serviceman on October 24 who officials said committed suicide.