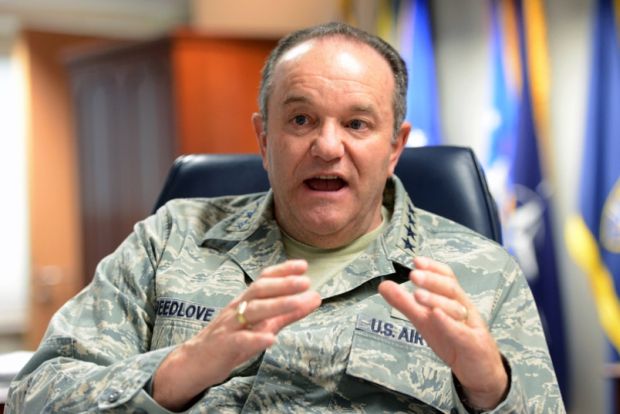 stripes.com
The new steps would allow for the presence of multiple U.S. brigades in Europe at any given time, increasing that number above current limits, The Wall Street Journal reported.
Gen. Philip Breedlove, the supreme allied commander of the North Atlantic Treaty Organization, said he would like to see more brigades committed to Europe as rotational forces. Decisions on the proposal, he said, will be made "in the next couple of months."
The new steps were outlined at a forum here over the weekend by military and defense leaders, who condemned military aggression and threats from Russian President Vladimir Putin and warned that the U.S. must not let Moscow's cooperation with the West in Syria distract from the conflict in Ukraine.
Read alsoU.S. army chief plans Europe troop surge to counter Putin – The TimesGen. Mark Milley, the chief of staff of the U.S. Army, said the Army is refining its training to ensure the U.S. military is able to face threats posed by Russian forces, learning to counter hybrid war, which blends regular and irregular forces, propaganda and unconventional tactics to sow confusion. He also said he was in favor of sending more troops to deploy—on a temporary basis—to Europe.
Such moves, Gen. Milley said in an interview with The Wall Street Journal, are critical to ensure that no new conflict erupts in Europe.
"Aggression left unanswered is likely to lead to more aggression," he said.
Read alsoAmerican paratroopers in Ukraine have Putin rattledThe proposal for more rotating forces must be formally developed by Pentagon planners and then approved by the Obama administration and funded by Congress. The military will push for the inclusion of funding in a budget request to be sent to Capitol Hill early next year, officials said.